Yesterday I searched for
beams of light
within this gloomy season. A quick spin through the comments section showed that the most controversial aspect of the column (aside from the very notion of injecting positivity into this wretched mess) was my suggestion that the Twins would face a "financial crunch" as they plan for next year.
Several commenters bristled at the notion that the Twins, in their third year at Target Field, could be up against budgetary constraints that might prevent them from improving in areas of weakness. Let's examine the claim a little further…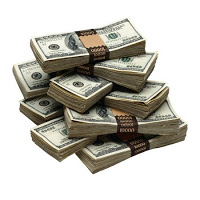 In early August, John Bonnes took a
preliminary look
at the team's 2012 payroll. He found that, with current locked-in obligations accounted for, we're looking at a $74 million base.
Even if you haven't taken online accounting classes, it's clear that's a lot of money.
That's about $50 million short of their 2011 payroll, so they'll seemingly have ample room to maneuver during the offseason, right?
Maybe. First, they'll have to make decisions on Francisco Liriano, Michael Cuddyer and Jason Kubel. Liriano will be entering his final season of arbitration eligibility, while Cuddyer and Kubel will both be free agents.
Bringing back all three players would probably cost around $25 million next year. Letting one, two or all three walk is an option but would be tough to stomach, since each offers a trait that is in short supply for the Twins.
Liriano might be the organization's only pitcher outside of Scott Baker with the upside to effectively hold down a spot at the front end of the rotation next year, while Cuddyer and Kubel are the only players with a realistic shot at hitting 20-plus home runs (together they've combined for a third of the team's long balls this season).
The Twins are already hurting for strikeouts from their starting pitchers and home runs from their lineup. If they want to try and contend next year, they're going to either need to bring these three back or find players who can replace what they provide, which won't be cheap.
Then, there's the bullpen. It basically needs to be rebuilt from scratch, with Glen Perkins looking like the only reliable arm who will carry over from this season. Free agent relievers aren't cheap -- at least not the good ones. What's a fair allotment for a decent bullpen? Ten million? Fifteen million?
If you bring back Cuddyer, Kubel and Liriano at $25 million while putting a modest $10 million into the bullpen, you're looking at a $110 million payroll, which is close to where I expect them to land next year. That leaves little room for upgrades in the starting rotation, middle infield or catcher.
Which is why I said that the Twins would hugely benefit from being able to use Ben Revere and Trevor Plouffe in starting roles. It would prevent the front office from having to go outside the organization to fill vacancies in the lineup left by Delmon Young and (hopefully) Tsuyoshi Nishioka.
As for the other holes and depth issues that have become appararent this year? Well, Bill Smith is going to need to get creative.
I'm only scratching the surface of a multitude of difficult decisions that will face the front office in the approaching offseason. You'll be able to get a much more comprehensive look at all these issues in the TwinsCentric Offseason GM Handbook, which should be available shortly after the season concludes. Keep your eyes peeled.