On Monday night, Jim Thome became the eighth player in baseball history to reach 600 home runs. It was a long time coming for the future Hall of Fame slugger, who debuted in the majors and hit his first career home run back in 1991.
Since then, Thome has averaged 29 homers per year, topping out with 52 in 2002. During that same span, the Twins have had only three players hit more than 29 bombs in a session (Justin Morneau three times, Michael Cuddyer and Torii Hunter once apiece). In only five of the past 20 years have the Twins' top two home runs hitters
combined
to go deep 52 times.
It's oddly fitting that Thome would reach this rare and awe-inspiring milestone while playing for an organization that has been so starved for home runs over his entire career.
We've long admired his majestic bombs from afar, while he was hitting 445 of them with the division-rival Indians and White Sox. And over the past two years, we've had the pleasure of observing one of baseball's great all-time power hitters from up close. To say Thome has stood out from the pack during his time in Minnesota, despite aging into his 40s, would be an understatement.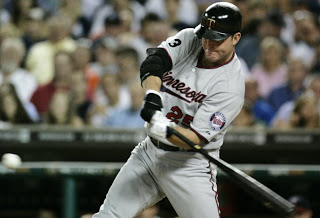 Fans have grown tired of hearing Twins' hitters pile up excuses for their lack of long-ball success in the home yard, but Thome has experienced no such issues. Twenty-one of his 36 dingers over the past two years have come at Target Field, and he completely owns the park's leader board; five of the six longest home runs hit by a Twin in the young stadium belong to Thome, according to
ESPN Home Run Tracker
.
That Thome has been so successful at an age where even the
great all-time power hitters have generally fizzled out
is incredible, but one has to wonder how much is left in the tank, especially in light of all the back problems.
Whether or not Thome chooses to continue his career after this season, he'll turn 41 in 10 days and it seems safe to say that he's at least nearing the end of his lengthy reign as one of the game's foremost slugging machines.
When he's gone, it isn't clear who will carry the torch as Minnesota's top bopper. I
wrote last week
about the organization's gloomy power outlook, with no legitimate home run threats in the high minors and with the future statuses of players like Justin Morneau, Joe Mauer, Jason Kubel and Michael Cuddyer in doubt (either due to health or expiring contracts). Trevor Plouffe leads the organization in homers this year, and it's not clear whether Ron Gardenhire will ever find a defensive position where he's comfortable playing him regularly.
It would seem that the Twins' next true beacon of hope might be Miguel Sano, who is currently 18 and playing rookie ball in Elizabethton. Signed out of the Dominican Republic with a hefty bonus after the 2009 season, Sano is already starting to fulfill his immense power-hitting potential, as he's launched 13 home runs in 51 games this year in the Appalachian League. More than half of Sano's hits have gone for extra bases, aiding a .589 slugging percentage.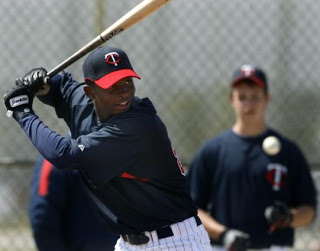 Sano has had his issues with plate discipline, but to be pounding the ball like this -- at an age where power is typically an undeveloped tool -- is exciting. When Thome was playing rookie ball at 18 (all the way back in 1989), he hit zero home runs with a .296 slugging percentage in 55 games.
Sano has the type of raw power and potential that makes some analysts believe he could one day sit beside Thome on Target Field's all-time distance leader board. But he is of course only 18 years old (allegedly), and we'll have to wait a long time before that could become a reality.
For now, we'll have to simply appreciate the exceedingly rare specimen that Thome is, especially if this is his swan song.
Jim Thome, the long-time Twin killer, retiring as a Twin after reaching an historical milestone the very same year that Harmon Killeberew -- a legend in his own image -- passed on.
Oddly fitting.