Plenty of Twins hitters have struggled this year, but Ron Gardenhire has been especially hard on Danny Valencia. The manager's frustration seems to be directed more at the young third baseman's approach than his results.
"He's got a lot of movement going on and they are trying to slow that down," Gardenhire
said a couple weeks ago
, in an interview where he also hinted that a demotion to the minors could be in store. "When Danny is swinging good he's driving the ball up the middle and the other way, staying on pitches. Right now, it looks like he's trying to hit every ball into the seats."
In 14 games since that quote was published, Valencia has only 10 hits -- six of them for extra bases, including three homers and a deep triple. Here's his
spray chart
during that span (excluding last night's game):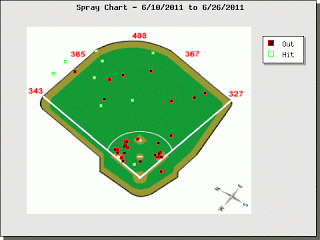 Zero hits to the opposite field. It seems clear that, whether intentional or not, Valencia isn't heeding his manager's advice. He's swinging hard and trying to crush the ball, and while that has resulted in some welcome power productivity, he's also hitting only .212 in those 14 games, with two walks and 11 strikeouts.
The Twins are so thin from injuries that Valencia need not worry about a trip to the minors for now. But if he doesn't start picking it up in the second half, he won't find himself guaranteed a starting job next year, regardless of the homer and RBI totals.