* The first round of Major League Baseball's amateur entry draft took place yesterday, and the Twins were the 30th team to pick, by virtue of their tremendous 2010 campaign. Rather than selecting a college pitcher or high school position player, as they have with their first pick in each of the past 14 drafts, the Twins nabbed University of Carolina shortstop Levi Michael.
I haven't spent as much time studying the draft crop this year as I usually do, so I was only familiar with a handful of prospects and Michael was not one of them. From what I gather, he's a switch-hitting junior who's improved his stock over the course of his collegiate career.
It's nice to see the Twins break from their routine and bring in a polished player at a position of severe organization weakness. I've seen Michael's upside compared to Brian Roberts. To be honest, though, based on what I've read, it's pretty difficult to get enthused about the kid.
From the
MLB.com scouting report
:
Every Draft class has a crop of college middle infielders that is interesting, if not overwhelmingly exciting. Michael has improved over the past couple of years, moving himself to close to the top of this year's class of college hitters who play up the middle.

He can hit from both sides of the plate and, though he is more of a gap-to-gap guy, has gotten stronger and shown a little more pop this season.

When he's healthy, he's got above-average speed and will steal a base. An ankle injury has slowed him somewhat this season on both sides of the ball. Even before that, some scouts felt his range was too limited to be an everyday shortstop as a professional. His average arm is playable there but might be a bit short to profile there all the time. As a result, most see him as a second baseman -- his hands work just fine -- or as a utility type who can fill in at shortstop and not be a detriment.

It may not sound like the most exciting combination of tools, but it should be enough to be gone in the first 60 picks.
"Average arm"? "Hands work just fine"? "Utility type"? These are not descriptors one likes to read for a first-round pick. Fortunately,
Baseball America
paints a slightly better picture
:
Michael was a solid high school prospect in Lexington, N.C., but he graduated early in order to join the Tar Heels for the 2009 season. He has played a new position each season, moving from second base as a freshman to third base as a sophomore, before settling in at shortstop this year. He's been a reliable defender at all three spots, and scouts are warming up to the idea that he could stay at shortstop at the pro level. He missed a couple of games with an ankle injury and was still getting back to 100 percent, but he still showed ability in all facets of the game and was hitting .311/.461/.464 with 14 stolen bases in 15 attempts in 196 at-bats. He is a patient hitter with a good eye for the strike zone from both sides of the plate, with a 43-27 walk-strikeout ratio. He hits to all fields and could hit at the top of the batting order, though he shows pop and is naturally stronger from the right side. He's an above-average runner, though he hadn't quite returned to that level since the injury. Scouts don't view the ankle as a long-term concern. Defensively, he has good actions and enough arm strength for shortstop. The only concern is his range, but he'll get every chance to prove himself before potentially sliding to second base.
I want to believe the Twins got their guy. Then I read quotes like
this one
from scouting director Deron Johnson: "Picking No. 30, it's just whomever is left."
Indeed.
The Twins made two more selections yesterday, utilizing the sandwich picks they received as compensation for the free agent departures of Orlando Hudson and Jesse Crain. Those were used on Travis Harrison, a high school third baseman from California with considerable power potential (my favorite pick of the day), and Hudson Boyd, a right-handed high school pitcher from Ft. Myers.
The first-round results from this organization's past few drafts have been iffy (at least until Aaron Hicks and Alex Wimmers can get things turned around), but they've still made enough solid picks over the years that I'm willing to trust their judgment. They really need some of these picks to pan out.
* Ron Gardenhire's lineup last night was an interesting one, which featured Denard Span somewhere other than the leadoff spot for the first time since he was a rookie in 2008. Taking over in the one-spot was Ben Revere, who has seen his bat heat up in early June.
I applaud Gardy for the creativity, even if it didn't pay dividends. Revere and Span combined to go 1-for-8, but the bottom part of the order keyed a 6-4 victory, the club's fifth straight.
Noticeably absent from last night's lineup card was Danny Valencia, who had started each of the team's first 58 games. The sophomore hasn't hit all that well, but he's at least been in the lineup every day and deserves credit for that.
* I had a lot of fun at Friday night's TwinsCentric Viewing Party at Smalley's 87 Club downtown. Turnout was great, especially considering how late the event actually came together and how crummy the Twins have been. Most importantly, we helped Lindsay Guentzel raise a bunch of money for the Leukemia and Lymphona Society; big ups to Lindsay for her outstanding work for this deserving cause.
I also picked up one of the latest offerings from the apparel gurus over at
DiamondCentric
(progenitors of the famed "Thome Is My Homey" t-shirt, among countless others). Titled "Game Six," the design commemorates one of the greatest moments in franchise history, with a silhouette of Kirby Puckett pumping his fist next to the numbers 1991. It's printed on a high-quality triblend material that you can wear out as well as to games. In fact, this shirt has instantly become the nicest article of clothing I own, and I plan to be married in it one day. (OK, I'm kidding, but it's seriously a damn comfy shirt.)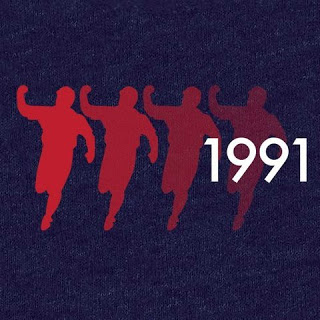 At $20,
Game Six
is a must-own for Puckett fans all over. Make sure to check out the rest of DiamondCentric's unique Twins apparel as well.