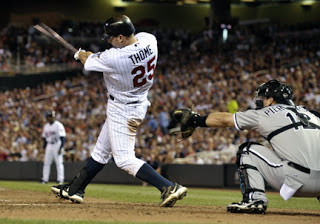 In an uncharacteristically forthright and candid response to an interview question about Jim Thome on ESPN 1500 earlier this week, Twins general manager Bill Smith made no secret of his desire to bring back the 40-year-old free agent next season,
telling
Phil Mackey and Patrick Reusse that "it's safe to say we're going to pursue him."
This comes as no surprise to me, as re-signing Thome was among my
offseason predictions
for the Twins a couple weeks ago. It doesn't disappoint me, either, since I listed the move as one I'd make in my
offseason blueprint
. Thome was a crucial contributor for the Twins in the 2010 season, delivering a marvelous offensive performance and enabling the offense to sustain the loss of an MVP-caliber hitter without missing much of a beat.
But the decision to bring Thome back is not cut-and-dry. Even though I'd support such a move, there's plenty of risk involved with dedicating a roster spot (and a sizable chunk of salary) to an aging slugger incapable of playing the field.
Minnesota sports fans are all too familiar with how quickly age can take a toll on even the most elite athletic performers. Look no further than Brett Favre, who last year nearly led the Vikings to a Super Bowl by amazingly putting together one of the best seasons of his career at age 40. He came back for another shot this year and suddenly it seems as though the game has passed him by. His turnovers have perhaps already cost the team as many games as his heroic heaves won them last year, and this past Sunday as he was being carted out off the field with a busted chin he
admitted to wondering
, "What in the world am I doing?"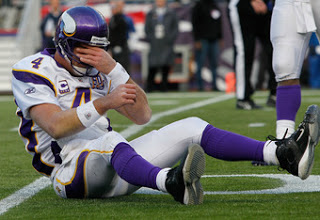 No one can doubt that the will and motivation are still there for Favre, but he's learning a tough lesson about the thresholds of the human body. What he did last year was unprecedented, and there's a reason for that. People generally can't keep playing at a high level in a league filled with the world's best athletes while on the wrong side of 40. At some point, Favre's body was just going to give out, and it seems we may be seeing that now, as much as the quarterback refuses to acknowledge it by admirably (or stupidly) continuing to take the field week after week.
The sports they play are obviously very different, but there are plenty of parallels between Favre and Thome. Both are inner-circle Hall of Famers. Both came to Minnesota looking to prove that they had something left in the tank after appearing finished at the conclusion of their previous seasons. Both put together amazing campaigns while turning 40 years old, but were left with a sense of unfinished business. It's what brought Favre back, and it's what very well could bring Thome back.
The Twins' signing of Thome is widely looked at as the best free agency acquisition of last any team last winter, as he came on for a measly $1.5 million base salary and managed to hit .283/.412/.627 with 25 home runs and 59 RBI in 109 games. That performance ensured that Thome will command a higher salary this year, although his age and his inability to play the field ought to keep his price tag relatively modest. For a Twins team with ballooning salaries across the board, the $3-4 million it might take to bring Thome back is significant. Are they willing to gamble that he can keep producing in a season where he'll turn 41 years old?
A glance at some of the players who surround Thome on baseball's all-time home run list reminds us how quickly physical ability can fade around this point in life.
Frank Robinson, whom Thome passed on the home run list late in the year to move up to eighth all-time, hit 22 homers with an .833 OPS at the age of 38 in 1974. The next year, at 39, he hit nine homers while being limited to 49 games by injury. A year later, he hit three home runs and posted a .687 OPS while playing in only 36 games at age 40, and then his career was finished.
Ken Griffey, fifth on the list, managed 19 homers last year but retired this year at the age of 40 with zero home runs and a .454 OPS in 108 plate appearances.
Willie Mays, No. 4 on the list, racked up 18 homers with a .907 OPS as a 40-year-old in 1971, but the next year he hit only eight homers while playing 69 games and in '73 he retired after hitting six homers and posting a .647 OPS in an injury-riddled campaign.
Babe Ruth bashed 22 homers while registering a .985 OPS as a 39-year-old in 1934. The next year he managed to play in only 28 games, hitting .181 with six home runs, and retired.
Hank Aaron hit 20 home runs with an .832 OPS as a 40-year-old in 1974, then hit 12 homers with a .687 OPS in '75 and retired after posting similar numbers the next year.
Looking at the top ten home run hitters of all time, the only player who had a productive season that started after he'd turned 40 is the guy at the top, Barry Bonds, and there's plenty of room to question whether he did so naturally.
This is a lot of examples to digest, obviously, but the point is that while Thome's tremendous performance this past season was unlikely, it's infinitely more unlikely that he'll be able to repeat it next year based on historical comparisons. Now, the Twins don't necessarily need him to repeat that performance -- they'd probably be satisfied with some quality pop off the bench assuming Justin Morneau returns -- but an awful lot of Thome's historical peers ceased to be productive players very suddenly right around this age. And much like with Favre's ankle late last season for the Vikings, the back problems Thome experienced late in the Twins' season (which may or may not have factored into his poor postseason performance) could certainly be a precursor to more debilitating issues next year.
Of course, the Twins won't need to pay Thome $18 million to lure him back and they won't be investing the fate of their season in him like the Vikings did with Favre. But considering their payroll situation and the fact that they're already committed to paying a plodding lefty slugger $5.25 million in Jason Kubel, the Thome decision is an important one.
It sounds like Smith already has his mind made up, and that's fine by me. I love Thome. But history paints a rather grim portrait of what we can expect from the him next year, and if Smith is going to bring the veteran slugger back he'd better be prepared for the worst.