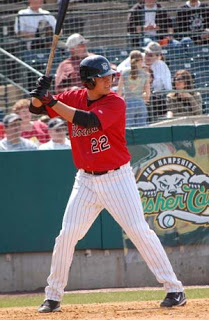 I've always been a fan of Danny Valencia. I was surprised when the Twins were able to nab him all the way down in the 19th round of the 2006 draft in spite of his successful college career at Miami, a collegiate baseball powerhouse. I was more surprised when Valencia quickly signed, electing to forego the chance to improve his draft stock with a big senior season. And I was highly pleased when the 21-year-old started his pro career out well by hitting .311/.365/.505 in a half-season at rookie-level Elizabethton after being signed.
Ever since then, Valencia has been remarkably consistent. He has moved up the minor-league ladder at a steady pace of about one level per year, and at each stop has posted numbers fairly close to his overall minor-league hitting line: .303/.363/.485. That's great production, obviously, and combined with improving defense it makes Valencia a bona fide prospect at a position where the Twins have lacked consistent production for several years.

Top Ten Prospects list
, I ranked Valencia fifth, which is higher than you'd find him on most lists. Here's what I had to say about him:
He isn't spectacular in any aspect of the game, but he also lacks huge flaws, which makes him a relatively safe bet to succeed as he moves up. Valencia hails from a respected college program, possesses the ability to hit for very good average and power from the right side of the plate (much needed assets in this organization), and has reportedly made significant strides defensively since being drafted. Valencia has moved through four levels in two-and-a-half years as a pro and has had success at each one. I'm going to keep liking him until he gives me something not to like.
He still hasn't given me anything not to like. He started this season at New Britain -- where he played the second half of the 2008 season -- and allayed concerns about his plate discipline by posting a very good 40-to-31 strikeout-to-walk ratio over 252 plate appearances. He also hit .284/.373/.482 (nearly identical to his overall minor-league line) with seven homers and 29 RBI. Valencia was rewarded for his strong first-half hitting on Monday, when it was announced that the Twins have promoted him to Class-AAA Rochester.

At this point, it would seem that Valencia controls his own destiny, and what more could a prospect ask for? With a strong final three months in Rochester, he could put himself in position to overtake the Twins' starting third base job, which figures to be vacant after Joe Crede almost certainly departs following this season. It would certainly go against the Twins' M.O. to move Valencia into a starting major-league role after just a half-season in Triple-A, but it would seem that they'll be short on options next year if Crede leaves and Valencia could potentially help his case by displaying his skills for the big-league staff later this year if he's able to earn a September call-up.
Crede has been a fine one-year stopgap solution for the Twins, but the problem with such short-term fixes is that the team inevitably finds itself in the same position they were in prior to the acquisition one year later. It's likely that the Twins will once again be searching for an answer at third base during the upcoming offseason, but the chief difference this year is that their top prospect at the position will have a half-season of competition at the highest level of the minors under his belt. If Valencia can continue to hit in Rochester the way he has at every other level while playing quality defense and bringing a good attitude, he can establish himself as a clear favorite to take over the reigns at the hot corner the day the Twins open their new stadium, and to remain there for years to come.