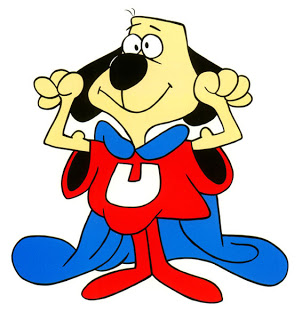 When I was younger, one of my favorite cartoon characters was Underdog. A scrappy little pup with tiny lumps for biceps who doubled as a humble shoe-shiner in his normal life, Underdog spoke in constant rhymes and did battle with nefarious villains who always held numerous clear advantages in battle. When the evil-doers were terrorizing the town, Underdog would fly in and spout off his famous catch-phrase ("There's no need to fear, Underdog is here!") before ultimately overcoming the bad guy and saving the day.
Underdog was a great character because he was designed to be loved. Everyone loves the underdog. When it comes to sporting events, disinterested fans will quite frequently root for the team that is widely expected to lose, if only because a victory by the underdog will make the game all the more dramatic and exciting.
The Twins, who battled back from a seven-game deficit in early September to capture the AL Central crown, will assume the underdog role once again this evening when they take on the mighty Yankees in New York in the first round of the American League playoffs. Just 20 hours removed from their whirlwind victory over the Tigers in a thrilling AL Central tie-breaker, the Twins will venture into one of the toughest postseason atmospheres in all of sports to challenge a club that has knocked them out of the playoffs twice in their past three postseason trips.
Calling the Twins underdogs in this series is hardly novel. Anyone flat-out predicting a series victory for the Twins is either doing so to shake things up or out of pure homerism. This ALDS is the classic David and Goliath story; the Twins, a team armed with a $65M payroll that just barely managed to claw their way out of a weak division, taking on the Yankees, a $200M team with that won 103 games this year and and came out on top of the league's best division by a healthy eight games. The Yankees went went 7-0 against the Twins during the regular season this year and are 26-5 against the Twins in New York during the Ron Gardenhire era.
By their own standards, the Twins had a fairly strong year offensively, but they are certainly no match for the Bronx Bombers. The Yankees lineup features seven players with 20-plus home runs; their No. 8 hitter went deep more times than all but two players who will be in the Twins' lineup tonight. Eight Yankees regulars finished the regular season with an OPS over 850, a claim that only three Twins players will be able to make tonight.
And then, of course, there's the Twins' huge pitching disadvantage. Brian Duensing entered this season as a mediocre 25-year-old minor-league lefty coming off a 5-11, 4.28 ERA season in Triple-A. Had you told me in April that he'd be the team's Game One starter in a postseason series I'd have gone Joe Wilson on you. Yet, here he sits as essentially the only remotely well-rested pitcher on the Twins' roster, and his unexpectedly solid performance after being added to the rotation in August has the Twins hoping he can hold his own against the league's most potent lineup in a hugely intimidating setting. The Yankees will counter with their prized offseason pitching acquisition, C.C. Sabathia, who has lived up to the hype in the first year of his mega-deal by posting a 19-8 record and 3.37 ERA. Sabathia, a self-proclaimed Twins-hater, has accumulated a 3.05 ERA in 28 career starts against Minnesota.
Beyond the mismatch on paper, we must of course note the fact that the Twins are undoubtedly exhausted both physically and emotionally after last night's 12-inning marathon and in general after the past couple weeks of non-stop must-win baseball. Not only have they had a couple days to rest up, the Yankees have had their postseason slot locked up for some time now and have been essentially been preparing for this series for weeks. They've got their top starters in line to pitch the first three games, and all their best hitters healthy and locked in.
It's tough to imagine the Twins taking this series. In fact, it's pretty tough to imagine them even taking a game. But this is a Twins blog, so dammit, let's lay out three reasons why the Twins might stand a chance tonight:
1) The Yankees haven't seen Duensing as a starter.
Sometimes minor-league pitchers with mediocre stuff are able to initially garner effective results in the majors since hitters haven't seen them before and scouting reports haven't really caught up with them. We saw that earlier this season with Anthony Swarzak, who posted a 3.74 ERA over his first eight starts before imploding, and we seem to be seeing it now with Duensing, who has gone 5-1 with a 2.63 ERA since joining the Twins rotation in August (that excludes a scoreless inning of relief in the Royals series this past weekend). The Yankees haven't had a prolonged look at Duensing, so it's possible he can keep them off-balance with his crafty stuff.
2) The Twins have some power.
Home runs can change the complexion of a ballgame, as we saw last night when home runs by Jason Kubel and Orlando Cabrera awakened the Twins offense from its early-game slumber. Last year, the Twins ranked dead last in the AL with 111 home runs; this year, they were closer to the middle of the pack with 172. Balls also tend to fly out of this new Yankee Stadium, particularly to right field, which should benefit Kubel and Joe Mauer. A few long balls, particularly with runners aboard, could go a long way toward giving the Twins a chance in this game.
3) These are the 2009 Minnesota Twins.
It sounds cheesy, but really, can we put anything past this team? Contemporary analysts and stat-heads like to downplay the true value of "momentum," but it's tough to do so with the way the Twins have played lately. Right now it seems like they're coming through with big hits at every crucial moment and getting every break to go their way. Never was that more evident than in last night's game. It has often been theorized that the reason the Twins have played so poorly against the Yankees during Gardenhire's tenure is because they don't
believe
they can win in New York. But if that was true before, I have a hard time believing it is now. With the way things have gone for this team recently, I doubt there's a team out there they don't think they can find a way to beat. That confidence, combined with the low expectations nearly everyone has placed on them in this series, could prove crucial.
There's no need to fear, the underdogs are here. Go get 'em.