There are a lot of things that can be said about Nick Punto. (And today, I'm sure a lot of things will be said.) But one undeniable truth is that he plays the game about as hard as anyone in the league. Type his name into a Google image search and you'll find picture after picture of him diving face-first into a base, falling over after fielding a ball and making an off-balance throw while fully horizontal, or sliding hard into a base to break up a double play. A grimace routinely adorns his face in these photos as he exerts his full energy to make things happen on the field. At times this wreckless style has played against Punto -- unnecessary slides into first base and a lengthy history of injuries come to mind -- but it's hard not to respect a guy who is seeking to get the most out of his relatively limited skill set and help the team win at all costs.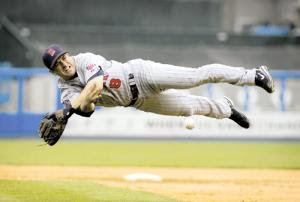 I've had an up-and-down relationship with Punto, to be sure. I was one of his most staunch defenders early on, routinely arguing with folks over at
SBG
and other places about his potential value to the club, and I felt vindicated after he took over third base duties from Tony Batista in 2006 and pieced together a very strong campaign while helping push the Twins to a postseason berth. Of course, Punto followed up that season with one of the worst offensive showings in major-league history in 2007, causing him to wear thin with most Twins fans, including myself. Many have never forgiven him for that brutal season, and over the past two years I've seen more vitriol directed toward Punto than any other player from local fans.

To me, Punto is what he is at this point: a versatile player who can provide a lot of value to a club if utilized correctly but who is stretched in an everyday role. Too often, Ron Gardenhire has struggled to find the proper role for Punto, letting his unabashed adoration for the utility man's aforementioned maximal effort cloud sound managerial judgment. At times it became incredibly painful to see Punto's name continually written into the lineup during that '07 season, and the same can be said for last year, when he posted similarly terrible offensive numbers.

But, through it all, Punto has been a stout defender around the field and a consummate teammate. When he's going good offensively, he can be a solid contributor with the bat, and recently he has evolved his plate approach and become a much more patient hitter. Punto's diminutive size and hunched batting stance provide opposing pitchers with a reduced strike zone; this combined with his willingness to watch a lot of pitches has turned Punto into something of a walk-taking machine. From July 1 to the end of the season last year, Punto walked in 15.8 percent of his plate appearances (it should go without saying that none of those walks were intentional). For comparison, Joe Mauer drew unintentional walks in 9.2 percent of his plate appearances during that same span. Given that Mauer possesses one of the league's most discerning eyes and was amidst an MVP season that had pitchers routinely trying to pitch around him, that's awfully impressive.

Punto's outstanding ability to draw free passes enabled him to post a respectable .337 on-base percentage last year despite a dreadful .228 batting average and .284 slugging percentage. If he can rebound to some degree in the latter categories this year -- as he did in 2006 and 2008 -- while maintaining his new found ability to draw walks at an excellent rate, Punto can become a quality offensive contributor and an asset to the lineup when his defense is factored in.
What's nice is that the pressure on Punto this year is exceedingly low. While he figures to draw regular starts at third base -- an offense-oriented position -- he'll be batting ninth in a lineup that looks to be pretty strong one-through-eight. The average AL No. 9 hitter batted just .245/.305/.349 last season, and that mark certainly seems achievable for Punto (albeit with a higher figure in the OBP column and a lower figure in the SLG column). Plus, Brendan Harris' presence gives the Twins a solid backup option -- which they lacked at third base in 2007 and at shortstop for much of 2009 -- and should allow Punto to move around the field and capitalize on his defensive versatility.
By no means is Punto a great player, and many teams around the league wouldn't even view him as a starter. But he has a distinct style and he plays hard, which is why I've always enjoyed watching him and why I've been in his corner more than most folks during his tenure with the Twins. It's very possible that he'll break his even/odd year trend and put forth another dud offensive season this year, but there are encouraging trends to be drawn from his second half last season. With his strong glovework and his patient plate approach, he seems poised to be a valuable contributor to this team even if his offensive game doesn't return to the level it was at in '06 and '08. And if it does return to that level, fans should have no trouble forgiving that disastrous 2007 campaign, or his final gaffe last October that left fans with a sour taste in their mouths: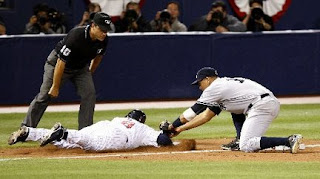 For better or for worse, Nick Punto will be throwing his body around and doing all he can to help the team win this season. Just as he always has.