As you might have heard, advanced statistics view Francisco Liriano quite highly this year. His combination of a high strikeout rate, high grounder rate and relatively strong walk rate have made him a sabermatrician's dream, as he ranks first in the majors with a 2.33 FIP and second only to Roy Halladay with a 3.00 xFIP (the latter metric penalizes Liriano slightly for what it views as an unsustainably low home run rate).
Of course, Liriano's actual results haven't been quite as strong as those figures would have us believe. He leads Twins starters with a 3.45 ERA but hasn't been quite the innings eater that, say, Carl Pavano has been. (Liriano has completed eight innings in a start only three times this year, while Pavs has done it nine times.)
The ability to regularly pitch deep into games is an extremely valuable skill. It is one that often eludes pitchers like Liriano, who throws very hard and often uses a high number of pitches in an effort to rack up strikeouts. Liriano is great, but he's not necessarily all that efficient, a flaw that is reflected in his less-than-stellar innings total and his unspectacular 1.28 WHIP.
That's what's so thoroughly impressive about the man who will toe the rubber opposite Liriano this evening. Cliff Lee also rates highly in most sabermetric categories, with a 2.55 FIP that ranks third in baseball and a 3.28 xFIP that ranks sixth. But he's also averaging well over an extra inning per start in comparison to Liriano. Lee has hurled seven complete games and averaged nearly eight innings per turn this season.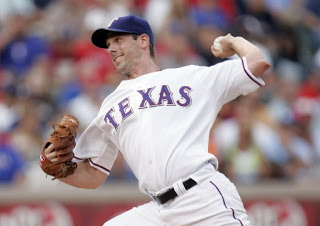 How does he do it? Durability is certainly a factor; Lee's arm doesn't wear down to the same degree as Liriano and he's routinely been pushed well past the 100-pitch mark this season. The key to Lee's approach, however, is his efficiency, rooted in the fact that he doesn't walk anybody. And I almost mean that literally. He's issued only 11 walks in 174 2/3 innings this year, and in that same span he's struck out 151 batters. That's good for a 13.7 strikeout-to-walk ratio that almost defies belief. The previous single-season record in the K/BB category is 11.0, set by Bret Saberhagen in 1994. Jim Whitney finished at 10.0 in 1884, an no other starting pitcher in major-league history has even managed a double-digit rate. What Lee's doing this year is historically amazing.
Liriano is special too, in his own way. He's one of baseball's best strikeout artists has amazingly allowed only thee home runs in 24 starts this year thanks to his ability to consistently keep the ball on the ground. His stuff is dazzling, but he's been susceptible to lapses in command, especially over the past couple weeks while he's been dealing with a bout of dead arm. Heck, in his last three starts, Liriano has issued more walks than Lee has all season, and as a result Liriano has looked a lot more like the trainwreck who struggled through the '09 campaign than a front-line ace on the same level as Lee.
Hopefully the additional rest Liriano was provided prior to tonight's start helps him pitch more like the guy who has dominated opposing lineups for much of the season. If so, we could be in for a treat as two of baseball's very best southpaws square off.
If not, the Twins will be in for some trouble tonight, and perhaps for the rest of the season.