When Ron Gardenhire announced earlier this week that Francisco Liriano would get the nod in Game 1 of the ALDS, it officially marked an important milestone: After a long road to recovery from Tommy John surgery, the left-hander has finally claimed the No. 1 starter label that he seemed destined for as he torched the minor leagues and dominated in his first tour through the bigs.
Liriano's outstanding season has been crucial to the Twins' success. On a smaller level, it has served as a shining example of why the BABIP statistic is one worth considering whenever a pitcher's numbers don't seem to reflect his performance.
Back in mid-July, when Liriano's ERA had ballooned to a season-high 3.86 in the wake of a thrashing from the Tigers, I
remarked
that the left-hander is "one pitcher you don't need to worry about." I pointed out that Liriano's .361 BABIP (batting average on balls in play) was unsustainably high for any pitcher, particularly one throwing as well as Liriano. He was doing what he needed -- getting ground balls and strikeouts while avoiding walks -- but had unfortunately been victimized by substandard defense and plain old bad luck.
As usual, I took some backlash for suggesting that Liriano's poor results might not be entirely his fault. Many believe that BABIP is a farce, and that if hitters are running up a high batting average against someone it's more than likely the pitchers fault. One commenter snarked, "Sometimes I wonder if you bloggers watch the games." Yet, over time, BABIP has proven to vary randomly for individual pitchers while always remaining steady for the league as a whole. (Major-league pitchers this year have a .298 BABIP. Last year: .299. The year before that: .300. And so forth.)
Liriano's BABIP since I wrote that article? It's .306, right in line with the league norm and drastically lower than the figure he posted over the first-half. Consequentially, Liriano has gone 7-1 with a 2.84 ERA since the All-Star break (compared to 6-7 with a 3.86 ERA prior), and it's not necessarily because he's pitched any differently.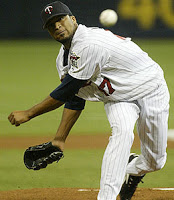 Liriano allowed a lot more singles than he reasonably should have this season, and ultimately it caused him to allow more runs than he probably should have. That will cost him a shot at the Cy Young Award, for which he might have been a front-runner with better luck and run support.
It should not, however, cloud our view of him as one of the game's very best pitchers, and a guy who will give the Twins an advantageous pitching match-up in the first game of the playoffs whether he's facing CC Sabathia or David Price.