Among sports franchises I've followed, the Twins stand out as the most boldly loyal. They promote from within, they've had two managers in the past 25 years, and they treat the players they like very, very well.
Loyalty is by no means a negative trait. To the contrary -- it's likely a big part of the reason that the Twins are held in such high regard around the league. But there is such a thing as "loyal to a fault," and I think we've seen it play out in the way Joe Nathan's return has been handled.
Nathan deserves a great deal of respect for his demeanor, determination and work ethic over the past year. When he learned last March that he was ticketed for Tommy John surgery, he immediately set his sights on retaking the closer position at the outset of the 2011 season.
Without a doubt, Nathan did everything in his power to expedite his recovery. When spring training got underway this year, he was there on the mound, throwing to live batters, just like he said he would be. Sort of amazing.
But, looking past the heartwarming story, there was little to suggest Nathan was ready to be pitching high-leverage relief innings in the major leagues. Still just 12 months removed from a surgery that normally takes at least 16 for full recovery, Nathan was throwing with noticeably decreased velocity and spotty command in exhibition play.
His spring training numbers showed it. In nine appearances, the right-hander was blown up for nine runs on 10 hits and four walks, managing only three strikeouts.
Yes, spring training numbers usually should be taken with a grain of salt, but Nathan was fighting for a job. Even looking beyond the hits and walks, the fact that he was able to notch only three strikeouts in nine appearances while trying to prove he had the stuff to close games should have been an immediate red flag. But when the time came, Ron Gardenhire and Co. made the decision everyone expected. They awarded Nathan the closer role over Matt Capps, who'd been vastly superior.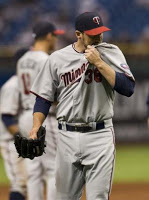 (Steve Nesius, AP)
It took no more than one appearance this season for the casual baseball observer to recognize that Nathan didn't have it. His fastball sporadically dipped under 90 MPH, he repeatedly missed his spots, and his breaking pitches lacked consistent bite. As the season has progressed, things have unfolded about as you would expect, given these issues.
Nathan, once a strikeout artist, has managed to whiff only three of the 27 batters he has faced. He's walked five and allowed six hits -- including a monster home run in Saturday's game that tagged him with his second blown save in a span of three days.
After the game, a humbled Nathan
volunteered for a demotion
. He'll settle into a low-leverage role that minimizes the damage he can do while he tries to figure things out. That doesn't really do any favors to a bullpen that's already short on trustworthy late-inning options.
Capps' move into the closer role will obviously open up more high-leverage spots in the seventh and eighth innings. Gardenhire
makes it sound
as though many of those opportunities will go to Glen Perkins, another player to whom the Twins have been fiercely loyal -- almost to a baffling degree.
Loyal to a fault? We'll see.