The Twins rounded out their rotation today, signing free agent right-hander Jason Marquis to a one-year, $3 million deal. Since Marquis essentially replaces Kevin Slowey, who was traded to the Rockies a few weeks ago and would have made about the same amount next season through arbitration, it seems appropriate to compare the two based on what they're likely to provide in 2012.
Slowey was disastrous this past season, but Marquis' 2010 campaign was almost equally catastrophic, as he posted a 6.60 ERA and 1.71 WHIP while being limited to 58 2/3 innings by injuries. He rebounded this year, putting up a mediocre 4.43 ERA and 1.49 WHIP while logging 132 innings over 23 starts between Washington and Arizona. That seems like a fair baseline expectation going forward.
Their career numbers aren't terribly different. Marquis' ERA in the majors sits at 4.55, Slowey 4.66. Both have been extremely hittable. Slowey owns the superior WHIP (1.29 to 1.43), thanks largely to a lower walk rate (1.4 BB/9 to 3.5), and he also boasts the higher strikeout rate (6.7 K/9 to 5.2).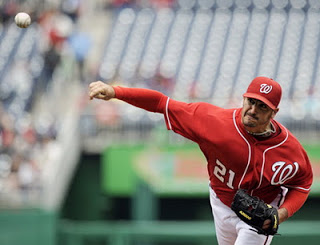 Opting for a guy who misses fewer bats is disappointing in light of the strikeout shortage that I've written about a couple times this week. However, Marquis offsets his lack of whiffs with an elite ground ball rate, which stands in stark contrast to Slowey's extreme fly ball tendencies. Only six pitchers in the majors finished with a higher grounder rate than Marquis' 55.1 percent in 2011.
If he continues to put the ball in play and induce tons of grounders, Marquis will only be as good as the infielders behind him, so the gamble that the Twins took on Jamey Carroll holding up as a full-time shortstop at age 38 will be magnified.
If you asked me which guy I'd rather have on a one-year deal for $3 million next year, I'd probably opt for Slowey, if only because he's six years younger and offers greater upside. The difference isn't huge, though, and if Slowey is really the clubhouse headache he's been made out to be, this can be considered a justifiable swap at the bottom of the rotation.
Unfortunately, it does nothing to augment the top of the rotation, which will leave plenty of pressure on Scott Baker and Francisco Liriano to carry the load. Fans who were hoping for a serious upgrade to the starting corps aren't getting one here.