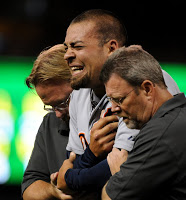 For Twins fans, the image is tough to forget.
Joel Zumaya was pitching to Delmon Young in the eighth inning of a late June game at Target Field. On a full count, the right-hander reared back and unleashed a 99 mph fastball, which Young fouled off.

It was immediately obvious that something went very wrong with Zumaya on the pitch, as he quickly clutched his right elbow and collapsed to the ground in extreme pain. His right hand was shaking violently as his coaches and teammates huddled around him near the pitcher's mound.
As it would turn out, Zumaya suffered an elbow fracture on the delivery, specifically to the olecranon, which is the top-most point of the ulna (shown to the right). It was the latest in a long line of arm injuries for the righty - the nature of the beast when your game is built around hurling triple-digit heaters - and it's kept him off the field for the last year and a half.
Zumaya can't have fond memories of Target Field, but it looks like he'll return to pitch at the site of his most gruesome injury, as he's reportedly agreed to terms with the Twins on a one-year deal. Pending a physical - which is no simple formality in this case - the reliever will earn a base salary of $800,000 plus incentives to serve as a much-needed right-handed power arm at the back end of the bullpen.
While auditioning in front of an army of scouts back in December, Zumaya was
reportedly registering
between 93-96 mph with decent command. That's a step back from his previous elite heat (his fastball was averaging 99.3 mph in 2010 before he went down) but it would still qualify him as the hardest thrower on the Twins' staff, and he'll likely add some ticks in spring training if he can stay healthy.
That's a big "if," obviously, as the newly added setup man will join a lengthy list of health question marks in Ft. Myers. Still, Zumaya is only 27, and broken bones tend to heal more reliably than torn ligaments. If the fireballer can finally make his way through a full season with good health - something he hasn't done since his rookie year in 2006 - he could provide a huge boost from the right side in the late innings.
And if things don't work out, the Twins won't be out much money, as his deal is non-guaranteed and his base salary is barely more than the club would've paid to keep Jose Mijares around. This is the kind of low-risk, high-upside signing that Terry Ryan should be looking to make whenever he can, especially with the payroll restrictions that have been imposed upon him.
The fact remains, though, that if Zumaya's arm fails him as it has in five straight seasons, Alex Burnett stands to be the top fallback option. We'll see if Ryan is done shopping for relief help.