Much uncertainty surrounds the Twins pitching staff at this point. Unless Carl Pavano or another starter is added, the organization lacks any proven rotation options beyond their starting five, which is a frightening proposition given that three of them are coming off seasons marred by elbow issues. The bullpen possesses even less stability.
It's possible that more players will be added to both of those units via free agency or trade, but money is short so the coaching staff is going to have to get creative in trying to assemble pitching depth. This reality increases the likelihood that the team's selection in the Rule 5, Scott Diamond.
Diamond is a 24-year-old left-hander fished out of the Braves organization, where he went 8-7 with a 3.46 ERA between Double-A and Triple-A in 2010. Though he went undrafted, Diamond has carved out a nice minor-league career thus far, posting a 3.28 ERA and 1.37 WHIP while rising steadily through Atlanta's farm system. He's never never posted an ERA higher than 3.52 at any level and has turned in respectable strikeout and walk rates with consistency. He's also allowed only 19 home runs in 442 professional innings, suggesting proficiency with keeping the ball down.
The shiny stats might have some fans raising their eyebrows. Recalling the team's past success with a certain left-hander acquired in the Rule 5, these intrigued might be wondering if the Twins have found (in what is almost certain to become a horribly overused cliche) a diamond in the rough. Is excitement warranted?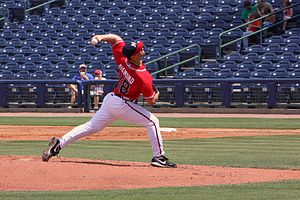 I've heard that the Twins were pleasantly surprised that they were able to get Diamond, and that his chances of making the 25-man roster (where he'll have to stick all season, or be returned to Atlanta) are quite good. Obviously they've had some success scouting undervalued players from other organizations in the past, so there's some cause for optimism.
Then again, there's a reason Diamond wasn't selected by any club in MLB's massive draft, there's a reason the Braves made him available in the Rule 5, and there's a reason that many teams passed on him there (Diamond was the the 12th player selected). Peter Hjort, who covers the Braves for the Sweet Spot affiliated Capitol Avenue Club blog,
ranked
Diamond as the organization's 39th best prospect at season's end, summarizing him thusly:
Scott Diamond went undrafted in 2008, but the Braves signed him shortly thereafter and he's been a durable, mostly effective starter in their system ever since. Employing an unspectacular, kitchen-sink repertoire-a 86-90 MPH fastball, cutter, change-up, and curveball-with solid command and pitchability, Diamond has produced a 7.3 K/9, a 3.0 BB/9, and a 0.4 HR/9 in 442 and 1/3 minor-league innings. He'll return to Class AAA Gwinnett at the onset of the 2011 season, but if the Braves need another lefty-specialist or their rotation plans fall apart, Diamond could get a look.
Well, he doesn't exactly sound like Johan Santana. But the Twins would settle for a decent strike-throwing southpaw who can provide some solid depth in the upcoming season, and when your competition is Glen Perkins it's not hard to stand out. Unless he really fails to impress in spring training, I'm guessing Diamond will find himself on the club's Opening Day roster.
Barring an injury, Diamond probably doesn't have a real good shot at grabbing a spot in the rotation over any of the five established members (especially if Pavano re-signs). Throwing him into the bullpen would require some adjustment, as Diamond worked almost exclusively as a starter in the minors (74 of his 76 career appearances have been starts), but the Twins transitioned Brian Duesning from minor-league starter to major-league reliever on the fly with good results, and there's little reason to think they wouldn't try it here with bullpen depth a pressing concern.
If the Twins find that they like Diamond in spring training but don't feel he's quite ready for a full season in the bigs, they could always swing a trade with Atlanta to keep him in the organization. With so many relief spots unclaimed, however, I suspect they'll be more willing than usual to take the plunge and keep him on the 25-man roster for the duration of the season.
As a kid from Canada who was overlooked by every team in the draft, and overlooked even by the organization that signed and raised him this winter, Diamond has plenty to prove.