* Since
demanding a trade
from the Rangers earlier this week, Michael Young has had his name bandied about by a lot of Twins fans. It's not hard to see the appeal a big name acquisition that would break the monotony of this offseason, but a quick examination of the facts quickly rules out such a move.
Let's think about this. The Twins parted with Orlando Hudson and J.J. Hardy this offseason because they wanted to add speed and youth to the infield while cutting down on salary. Young is 34 with diminishing quickness, and he's owed $48 million over the next three years. The Twins would be completely reneging on their stated offseason philosophy by dealing for Young, and paying dearly to do so.
One could certainly make the argument that Young would be useful addition for the Twins (though his numbers overstate his value), but acquiring him would only make sense if Texas was willing to eat the
vast
majority of his salary -- like over 75 percent. I doubt the Rangers would be willing to do that without getting a significant return -- it sounds as though the Dodgers were
rebuked
on such an attempt -- so it's safe to say Young won't be ending up here.
In fact, I suspect that in spite of his wishes, Young is going to end up playing in Texas this year. Sometimes we forget that players only have so much leverage in these cases.
* Have you heard? The
Maple Street Press 2011 Twins Annual
is
now available for pre-order
! Believe me when I say that you are going to need this product to get you ready for the season. It's packed full of great stuff from an outstanding stable of writers that includes the TwinsCentric gang, Howard Sinker, Judd Spicer, John Sickels and many of the very best Twins bloggers and authors. You'll find stories covering everything from the players to the prospects to the history to the ballpark and everything that surrounds it.
It's 128 pages, ad-free, packed with enough excellent content and big full-color pictures to get you through spring training. You can click on the cover image below to pre-order your copy for $12.99, and you'll receive it in your mailbox by early March.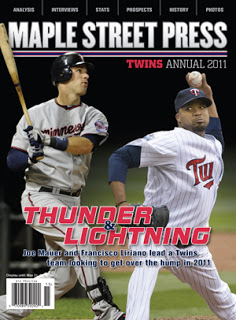 * For the sake of my sanity, I'm just going to ignore
this
for now.