Denard Span burst onto the major-league scene in 2008, hitting .294/.387/.432 in 93 games for an .819 OPS that bested any previous seasonal mark in the minors by at least 70 points. It was a stunning emergence for the 24-year-old, who had been written off by many as a potential fourth outfielder at best.
Given that Span's success in '08 -- both in Triple-A and the major leagues -- seemed to come out of nowhere, some analysts wondered whether he would be able to carry it forward. In 2009, he did just that, assuming full-time duty and posting a similarly excellent .311/.392/.415 hitting line as the Twins' leadoff man.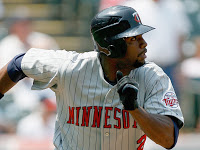 That was all the team needed to be convinced that Span was legit. Last spring, they locked him up with a five-year, $16.5 million extension, buying out all of his arbitration years with an option for his first season of free agency.
So it was unfortunate when Span took a massive step backwards last season, hitting .264/.331/.348 in 153 games. Those numbers made him look much more like the fourth outfielder he profiled as in the minors than a quality starting center fielder and leadoff man.
With a relative unknown taking over the No. 2 spot in the batting order this year, it's imperative that Span reestablish himself as a strong top-of-the-lineup threat. How can he accomplish this?
In his excellent article for the
Maple Street Press Twins Annual 2011
(which you can receive in a matter of days by
ordering now
), Adam Peterson breaks down the four components of offensive production: discipline, contact, power and base running. Peterson notes that last year Span led all Twins players in the discipline component, which quantifies expected runs when the ball is not put into play (specifically: strikeouts, walks and HBP). Span also ranked sixth among all MLB hitters.
In the contact component -- expected runs based on ground balls, line drives and bunts that are put into play -- Span ranked as the third-worst on the Twins, ahead of only Drew Butera and Jason Kubel. This was surprising because the component excludes power hitting, an area where Span has never been particularly strong. In the past, he'd made his living on succeeding with grounders, line drives and bunts, thanks largely to his speed.
Peterson's reasoning for this outcome struck a chord with me: "Most likely, this was the result of Span tending to hit the ball weakly when he hits ground balls."
Span himself has
attributed
his struggles on ground balls last year to the playing surface at Target Field, saying that it "felt at times like the infielders were catching up to those up the middle" and it "seemed like the grass would slow it up just a little."
Certainly it's true that grounders moved more slowly on the natural outdoor grass than the indoor carpet at the Metrodome, but to Peterson's point, I specifically recall thinking to myself on many occasions last summer that Span just wasn't making very good contact with the ball. Quite often he'd weakly tap it to the right side of the infield or back to the pitcher, and those simply aren't going to turn into hits much on any type of playing surface.
Span is a player who's going to put the ball on the turf quite a bit no matter what; his grounder rates over the past three years have remained constant (53.9% in '08, 53.1% in '09, 54.3% in '10). The key, especially now that he can no longer rely on the Dome's plastic floor, will be putting a jolt into those grounders so they can escape the infield with higher frequency, moving him closer to his .287 BABIP on ground balls from 2009 than his .223 mark from last year.
Raising his batting average will be the biggest key for Span in rejuvenating his offensive game this year. His excellent plate discipline and base-stealing ability make him an asset if he's racking up hits, and if you apply his same Isolated Discipline and Isolated Power figures from last year to his .311 average from 2009, he'd have hit .311/.378/.395, which is perfectly solid production from a leadoff man.
No wholesale changes are needed in Span's approach at the plate. Just a little more oomph.
I'm not one for online gambling, but if I were I'd bet on significant improvement from Span this year. What about you?