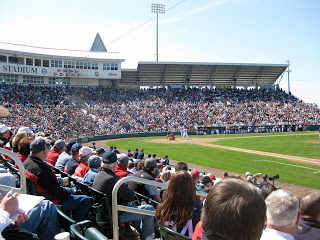 On Friday, the Twins played for the first time this year at their spring training home, Hammond Stadium in Fort Myers. I was in attendance, making it the first of many outdoor baseball games I will attend this season. Ironically, the southern Florida weather was about what can be expected at Target Field in early April -- it was a sunny but breezy day with a temperature that sat in the high 50s and warranted long sleeves rather than t-shirts. While the chilly conditions had many native Floridians complaining, I know that I'd easily prefer watching 81 home games in those exact same conditions to being cooped up in the Dome.
The lineup that the Twins trotted out was pretty close to the one we can expect to see on Opening Day in April. The only exceptions were Jim Thome, who started at DH and batted sixth, and Danny Valencia, who started at third base and batted ninth. If the first inning of the game was any indication, we'll be in for a treat when watching this offense go to work this season; by the end of the first frame, the Twins had put four runs on the board. And the pitcher they were terrorizing was no slouch, it was Boston's Jon Lester, who has established himself over the past couple years as one of the league's finest left-handed pitchers. Now, this was Lester's first start of the spring and he clearly was not at his sharpest, but seeing the Twins pester him relentlessly with a lineup that gives opposing pitchers no breaks 1-through-6 was plenty encouraging.
Here are a few observations from the game, followed by some photos I snapped...
* Justin Morneau struggled for several weeks before being shut down in September last year due to a fractured vertebrae. That seems like a pretty serious ailment, and Morneau also underwent offseason wrist surgery, so there is certainly reason for folks to be a bit nervous about the first baseman's health this spring. In the first inning of Friday's game, he turned on a fastball with the bases loaded and drove it down the right field line for a two-run double. Good sign. He also made a nice diving play defensively in the game.
* Much has been made of Delmon Young's slimmer physique this spring, and after seeing him in person I can attest that there is little doubt he worked hard to shed pounds during the offseason. Still, if the game I attended was any indication, Young's weight loss has not drastically improved his mobility in the outfield. He still seems to plod around, and on Friday he allowed a seemingly catchable a line drive to get over his head for a double, and later forced J.J. Hardy to race into shallow left to catch a fly ball that a more fleet left fielder would have likely been able to haul in.
Nevertheless, it is foolish to put too much stock into a couple plays within a single game, so by no means am I passing judgment on "Delmon Young 2.0," as some folks at the ballpark were affectionately referring to him. The Twins would hugely benefit from increased range from Young in left now that Carlos Gomez is gone.
* Reliever Anthony Slama has been one of my favorite prospects over the past couple years, so it was fun to finally get to see him live for the first time. Slama, a strikeout machine throughout his minor-league career, finished the 2009 season in Triple-A and could very well spend time with the big-league club this season.
I was excited to see Slama's delivery, which has been described by some as unorthodox. And while he does throw from a three-quarters slot, I would say that tales of Slama's funky throwing style have been somewhat exaggerated. I took a quick 30-second video from my seat at the game, so if you've never seen him pitch before you can click below to get some idea of how he delivers. (Please excuse the crappy video quality.)
* Aside from Slama, a pair of other relief prospects who could make an impact for the Twins in the near future also pitched in the game: Rob Delaney and Alex Burnett. Neither allowed a run (in fact, nobody did in the 5-0 Twins victory). If Joe Nathan's elbow issues from Saturday turn into something significant, pitchers like these could become important contributors this season.
* And now, a few (poorly shot) photos from my day at the ballpark: