Likely Starter: Michael Cuddyer
2009 Stats: .276/.342/.520, 32 HR, 94 RBI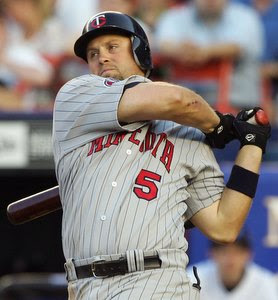 Cuddyer brings big value to the Twins on and off the field.
Potential Backups: Jason Kubel, Jacque Jones
Plodding right fielders who can hit post an 850 OPS while playing marginal defense aren't terribly uncommon, and that's basically the mold that Michael Cuddyer falls into. Yet, his value to the Twins stretches far beyond those traits.
He's the big right-handed power stick that can break up the big left-handed boppers in the middle of the Twins lineup. He's the cannon-armed defender who has kept even speedy runners from trying to take the extra base on hits to right field. He's the longest-tenured member of the Twins, a charismatic veteran and a clubhouse leader. One could argue that the $19 million Cuddyer will make over the next two seasons is exorbitant, given that players with his skill set are generally available at a lower cost. But the Twins are paying for a lot more than what shows up on the stat sheet.
Cuddyer demonstrated his value late in the 2009 season, when Justin Morneau's back injury forced the outfielder to don a first baseman's mitt and take over a position he'd barely played before during the most crucial stretch of the season. Cuddyer didn't complain; in fact, he stepped up and took his game to an all-new level, batting .325 and cranking eight homers while driving in 24 runs over the team's final 21 games. The Twins went 17-4 during that stretch, and Cuddyer -- who'd had a relatively mediocre season at that point -- was the offensive catalyst. Seeing him power the offense as he did during that final stretch has to make fans giddy to see what he'll be able to do this year, back in his natural position and sandwiched between two of the league's most feared left-handed power hitters.
Indeed, Cuddyer's 843 career OPS against southpaws looms large in the Twins' lefty-heavy lineup. He figures to garner plenty of RBI opportunities this year with a set of quality hitters in front of him. Health is always a concern for Cuddyer, who had his performance hampered in both 2007 and 2008 by injuries, but if he can stay healthy he'll be a crucial cog in the Twins' lineup. His range in the outfield is far from stellar, but much like the Metrodome, Target Field features a short right field wall that helps cover up for Cuddy's lack of foot speed.
From a visual standpoint, Cuddyer is not the most intimidating guy in the world. He's a red-cheeked Southern boy with a big smile usually smeared across his face. But there's no doubt that opposing pitchers feared him when he stepped up to the plate during those finals weeks of the 2009 season, and he'll likely be instilling similar fear this summer when he steps up to the plate as part of the parade of sluggers populating the middle part of the Twins' lineup.
Not too bad for a dime-a-dozen slugging corner outfielder.
Predicted 2010 Hitting Line for Cuddyer: .275/.340/.500, 25 HR, 100 RBI