Likely Starter: Delmon Young
2009 Stats: .284/.308/.425, 12 HR, 60 RBI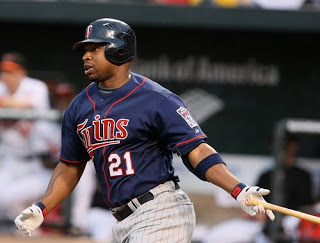 Will this be Young's year? (Photo courtesy of
Keith Allison
)
Potential Backups: Jason Kubel, Jacque Jones
Yesterday, in preparation for writing this article, I sent out a message from my Twitter account asking Twins fans to summarize their feelings about Delmon Young in one word. The responses, predictably, were mostly negative.

"Frustrating."

"Baffling."

"Underwhelmed."

"Exasperated."

"Trepidation."

"Malaise."

During his time here in Minnesota, Young has never really been embraced by the typically warm fan base because, for various reasons, I think it's been tough for fans to get behind him. Off the field, he doesn't have a particularly good reputation (although, to his credit, he hasn't had any publicized incidents since coming over from Tampa). On the field, he has been a major disappointment, having posted similarly underwhelming numbers in each of his three major-league seasons. His style of play can be frustrating to watch; he doesn't get to many balls in the outfield, swings at just about everything at the plate and hits into a lot of double plays. And while Young has failed to establish himself as a Twin, the two key players that Bill Smith traded for him -- Matt Garza and Jason Bartlett -- have blossomed into stars while wearing Rays uniforms.

Through his first couple years here in Minnesota, Young also had the misfortune of being juxtaposed against Carlos Gomez, another young player who was competing for playing time in the outfield. While the flaws in Gomez's game were perhaps no less frustrating than those in Young's, Gomez had a much more fan-friendly allure. His energy, enthusiasm and glowing personality portrayed him as a vastly different character than the more quiet and reserved Young.

After hedging back and forth between the two promising outfielders for much of the last two years, the Twins finally made a full commitment to Young this offseason by trading Gomez to the Brewers for J.J. Hardy. Young enters this season with regular playing time in left all but guaranteed. He's 24, with three full years of big-league experience under his belt and with nobody breathing down his neck. Everything seems aligned for him to finally emerge and fulfill -- at least to some degree -- the immense promise he showed as an elite teenage prospect. But will it happen?

Young's defenders often point to his youth. After all, they note, the typical 24-year-old player is still getting his feet wet at Triple-A, not preparing for his fourth season as a full-time major-leaguer. But what's troubling is that Young has now amassed over 1800 big-league plate appearances and has not evolved one bit as a hitter. His offensive production has been nearly identical in his three full seasons, and that production -- .288/.321/.411 with an average of 12 home runs and 74 RBI -- is simply not satisfactory for someone playing a non-valuable defensive position (and poorly). The average American League left fielder batted .267/.338/.442 last year, so Young's offensive performance wasn't even average, and defensively he rated as one of the league's worst at his position. He struck out far more often than any of his past big-league seasons, and he drew only 12 walks in 416 plate appearances. This isn't exactly the type of progression you'd like to see from a hitter who should be figuring things out in his third full year against major-league competition.

Before we all go writing Young off, though, there are a few promising signs to be gleaned from his 2009 campaign upon closer inspection. For one thing, his overall numbers were significantly dragged down by a terrible slump that immediately followed the passing of his mother, which very obviously affected his focus on the field. In the weeks after returning from a (perhaps overly) brief absence from the team, Young was striking out in every other at-bat and his batting average sunk by about 60 points. Take out this understandably poor stretch of performance and his overall numbers look a whole lot better.

In addition, Young finished the season very strong, which always helps breed hope heading into the next season. During the 17-4 stretch that propelled the Twins past the Tigers and into the playoffs, Young hit .353 with four of his 12 home runs and 17 RBI. During those final weeks of the season, Young was consistently hammering the baseball, and his three-run double off the right-field baggy against the eventual Cy Young winner Zack Greinke in a must-win October contest still stands out to me as one of the most memorable moments in the Twins' amazing run.
Yet, the hot streak did not coincide with any discernible change in approach for Young. During that 21-game stretch, Young continued to hack away at the plate, drawing just two non-intentional walks in 92 plate appearances. And there are plenty of people -- myself included -- who believe that unless Young takes meaningful strides with his pitch recognition he'll never be able to take his game to the next level for an extended period of time. He's a great contact hitter with the body of an imposing slugger, but Young just isn't good enough to become an outstanding hitter while he's consistently swinging at bad pitches. Simply put, he's not Vladimir Guerrero.

So far this spring, Young has seemingly shown little interest in becoming a more patient at the dish, as he's drawn only one walk in seven games (and batted .176). But spring training stats are relatively meaningless and Young has
at least indicated
that he plans to become more selective now that he doesn't face the prospect of being benched after a bad day at the plate with Gomez gone. Of course, his comfortable leash in left field won't last forever; if he's not getting it done, Young will have to start worrying about Jim Thome -- who can nudge Jason Kubel into left field -- cutting into his playing time.
As it stands, Kubel will likely spend some time in left field with Thome serving as designated hitter against tough right-handed pitchers. That should benefit Young, who has been much more effective against lefties than righties over the course of his career.

It's now or never for Young. While he's only 24, this will be his fourth full season and now that he's in his arbitration years he's becoming quite expensive. If he can't take a legitimate step forward this year, I suspect that the Twins will seek to move in a different direction. There are certainly still those out there who believe in Young, as illustrated by those few tweets I received yesterday with positive tones like "optimistic" and "promising." And while those words ceased to describe my take on Young as I've watched him fail to make adjustments over the past three years, that doesn't mean I'm not hopeful.
Predicted 2010 Hitting Line for Young: .300/.335/.430, 15 HR, 60 RBI