The Twins enter the 2010 season with a stacked offense, a deep bullpen and a newly re-signed MVP, so everything seems in place for a deep run this year. The most questionable aspect on the club, though, has to be the starting rotation. After all, the Twins ranked third-to-last in the American League last year with a 4.84 starters' ERA and none of Bill Smith's major offseason moves involved supplementing this unit.
However, the return of Kevin Slowey from wrist injury, the re-signing of Carl Pavano and the emergence of Francisco Liriano this winter provide plenty of reason for optimism. That the five hurlers I project to make the rotation have combined for a 1.64 ERA this spring is certainly helping to feed that optimism.
Let's break down the Twins' projected five-man rotation, with a quick look at the candidates to step in should someone go down.
Scott Baker
2009 Stats: 200 IP, 15-9, 4.36 ERA, 162 K / 48 BB, 1.19 WHIP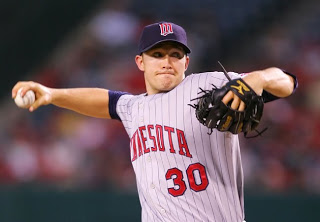 Having been the Twins' most consistent starter over the past three years and having been named Opening Day starter this year, Baker enters the season as ace by default. Whether he'll actually play up to that level remains to be seen -- only once has Baker posted an ERA under 4 in a full season -- but it's easy to be comfortable with him as a rock at the front of the Twins' rotation. Last year, he recovered from a rocky first handful of starts to go 15-5 with a 3.81 ERA over his final 29 starts, including 8-2 with a 3.28 after the All-Star break. Without any shoulder problems bogging him down this spring, it seems fair to expect that type of production over the course of the entire season this year.
Carl Pavano
2009 Stats: 199.1 IP, 14-12, 5.10 ERA, 147 K / 39 BB, 1.38 WHIP
After being acquired in August last year, Pavano posted a 4.64 ERA and 59-to-16 strikeout-to-walk ratio in 12 regular-season starts for the Twins, finishing his year on a high note with a dazzling outing against the Yankees in Game 3 of the ALDS. Pavano tends to serve up a sizable number of hits and is no frontline starter, but he's a control pitcher fully capable of posting solid overall numbers and he provides a welcome veteran edge to the Twins' relatively young pitching staff.
Kevin Slowey
2009 Stats: 90.2 IP, 10-3, 4.86 ERA, 75 K / 15 BB, 1.41 WHIP
When Slowey went down for the season with an injury last July, his numbers weren't terribly impressive. Despite a 10-3 record, Slowey held a 4.86 ERA and 1.41 WHIP that both screamed mediocrity, and he'd allowed a painful 15 home runs in just 90 innings. That performance was undoubtedly hampered by the wrist problems that ultimately required season-ending surgery; now that Slowey has gotten that taken care of, the hope is that he'll return to his 2008 form (3.99 ERA, 1.15 WHIP) or better. There aren't many starting pitchers around the league capable of striking out five times as many batters as they walk, which Slowey has done for two straight seasons now.
Nick Blackburn
2009 Stats: 205.2 IP, 11-11, 4.03 ERA, 98 K / 41 BB, 1.36 WHIP
No American League pitcher gave up more hits than Blackburn last year, and yet the right-hander still managed to finish with better than average numbers in the ERA and WHIP categories. That's because Blackburn is very stingy with walks and -- when he's on -- very good at inducing weak contact and keeping the ball in the park. Things can get a little ugly when he's not on, as displayed by his brutal stretch following the All-Star break last year, but overall Blackburn has posted nearly identical numbers in the past two seasons and has been a very solid middle-of-the-rotation starter in both.
Francisco Liriano
2009 Stats: 136.2 IP, 5-13, 5.80 ERA, 122 K / 65 BB, 1.55 WHIP
Liriano is the Twins' ace in the hole, so to speak. He was dreadful last season, struggling with command issues that mostly seemed to stem from mental hurdles, but he built up his confidence with an outstanding stint in winter ball and he's carried that confidence to spring training, where his numbers have been absolutely outstanding. Liriano has the best stuff of any Twins starter and has shown in the past that he's got serious ace ability. If he can fulfill that potential this year, he'll change the complexion of the entire rotation.
Other Options...
Brian Duensing
Duensing pitched extremely well down the stretch last year, providing an unexpected boost to a beleaguered rotation and playing a substantial role in the Twins' postseason run. That performance has earned him a first crack at the rotation should one of the top five starters fail and perhaps a spot in the bullpen, but his mediocre track record in the high minors, combined with his uninspiring results this spring, will likely keep him out of a starting role with the Twins for now.
Glen Perkins
After a solid 2008 campaign, Perkins entered the '09 season as a bona fide member of the rotation and a seemingly well positioned piece in the organization's long-term rotation plans. After a season full of injuries, poor performance and bickering with management, Perkins' stock has dropped off a cliff. If he's still with the organization come Opening Day, he'll almost certainly be in Rochester, and with much to prove.
Anthony Swarzak
He pitched very well upon being called up last year, but began to struggle immensely once the league caught on to him. Swarzak appears slated to start the year in Triple-A but is a nice piece to have around in case of emergency and is only 24 years old.
Jeff Manship
Manship got his feet wet at the big-league level late last year, joining the bullpen in August and then making a handful of starts in September as the Twins raced back into the postseason race. The high-pressure circumstances weren't exactly ideal for a young pitcher to be breaking into the majors, but Manship held his own and is likely to get another shot at some point this year.