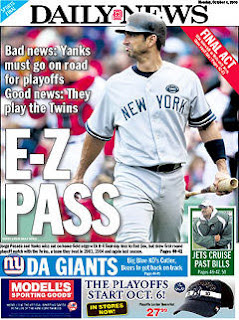 Many Twins fans took exception to the above headline, which appeared on the cover of the
New York Daily News
prior to the ALDS. The newspaper, known for being outrageous and controversial, was condescendingly declaring the Twins to be no challenge for the Yankees, a sentiment that seemed echo throughout the Big Apple.
As it would turn out, the arrogance was well warranted. The Twins brandished home field advantage and a $100 million payroll this time around, but the result was no different from past meetings with the Yankees: complete and utter failure.
In fact, this was Minnesota's most feeble postseason effort against the Bombers yet. In 2003 and 2004, the Twins at least managed to take a game. Last year, while they were swept, the Yankees needed extra-inning heroics and help from an umpire to win Game 2.
This year, the Yankees came into Minnesota and soundly defeated the Twins in a pair of games that held little drama. When the series went back to New York, the Yankees vanquished their dejected opponents with such ease and nonchalance that the result seemed predetermined.
We can spout off all we want about the Yankees' hex over the Twins or Ron Gardenhire's ineptitude in the postseason, but ultimately what this comes down to is a complete letdown by this team's players. These guys fought so hard all season to get to the big stage, and once they got there no one could step up and carry the load.
Francisco Liriano was among the league's most dominant starting pitchers this season. He certainly looked like it over the first five innings of Game 1. Somehow things spiraled so badly that when it was all said and done, Liriano -- who held lefty hitters to a .517 OPS this season -- was chased in the sixth inning by a two-run triple off the bat of a guy who has never hit southpaws.
Carl Pavano pitched so many brilliant games this season; he just couldn't do it when they needed him most.
Brian Duensing continually amazed us all summer long, but when push came to shove in Game 3, he was made to look like a player who did not belong in the major leagues. (Duensing threw 58 pitches in that outing; the Yankees did not swing and miss at one of them.)
Jesse Crain was, by any measure, one of the league's most dominant relievers this season, even accounting for his early-season struggles. Over the final four months, his tweaked slider was a pitch that rivaled Mariano Rivera's cutter in effectiveness. Yet, with a playoff game on the line and Mark Teixeira -- himself coming off an unremarkable season and battling wrist soreness -- at the plate, Crain left that slider hanging and it cost the Twins dearly.
Joe Mauer was a stud this season, shaking off a pedestrian first half to key the offenese with some monster production after the All-Star break. He contributed three singles in the series.
Delmon Young had a breakout campaign, becoming the chief run producer in the lineup after Justin Morneau went down in early July. He drove in 112 runs during the regular season. In this series, he drove in zero runs and managed zero extra-base hits.
Jim Thome was one of the league's most feared hitters this season. He came up with one single in 10 at-bats.
Jason Kubel has homered 69 times in the past three seasons and has delivered some of the team's biggest clutch hits during that span. He went 0-for-8 in the series and is now 2-for-29 lifetime in the postseason.
None of the role players did much of anything, but it wouldn't have made a whole lot of difference. When you get those kind of performances from your core players, you're not going to win a series against a team like New York.
I think it's hard to ignore the fact that almost none of the players mentioned above was playing at a high level as the season came to an end. Team momentum might be overrated, but when almost each and every one of your key players slumps into the end of the regular season, maybe you shouldn't be so surprised that they all come out ice cold in the playoffs.
The natural reaction for many fans is to blame the manager. After all, Gardenhire has been the one common thread among all these disappointing postseason teams. Yet, I find that almost lazy. He's proven his ability to win games, of both large and small magnitude, throughout his managerial tenure. I can't find fault much with the way he prepared the team for the playoffs nor the way he managed once they got there. It almost defies belief that so many of a good team's players can simultaneously shut down at the most important point in the season, and I'm sure Gardy's more baffled than anyone.
Maybe the visceral masses are correct. Maybe Gardenhire has a mental block when it comes to the Yankees and he lets it soak into his players. Maybe he made the wrong choice in giving Pavano a few extra days rest between his final regular-season and first postseason starts. Maybe he should have let banged up starters keep playing after the team clinched to keep them sharp. Maybe these 12 straight playoff losses really are on his shoulders.
But the manager can't go out there and complete six innings for Liriano. He can't stop Crain from leaving a high slider to Teixeira. He can't make the team's No. 3 hitter and reigning MVP deliver a danged extra-base hit in the postseason for once.
It's on the players. The teams that win in the postseason do so on the foundation of lights-out pitching performances and big hits, and in this series the Twins got neither of each, just like usual.
So ends the sixth season I've covered the Twins on my blog. During that span, I've watched the team make the playoffs three times and I still haven't had the chance to write about one single postseason victory. That's hard to swallow.
I'd say this one stings the most, but I don't know if that's true. Compared to 2006 and 2009, this club's regular season came to an anticlimactic end and the ALDS sweep by the Yankees was so quick and bereft of drama or memorable moments that it's almost like it didn't happen.
I feel a little robbed. Maybe that's why this one stings the most after all.