I hope everyone has been enjoying the Position Analysis series. I'll get back to it tomorrow, but today I thought I'd take a little break and share some observations from Monday's Twins/Orioles spring training match-up, which I had the pleasure of watching on sweltering hot afternoon at Hammond Stadium.
It was a good game to catch, with the Twins' starting lineup featuring mostly projected regulars (the only exceptions being Mike Redmond at catcher and Matt Tolbert at shortstop, for obvious reasons). The one outfielder left out of the mix on this day was Carlos Gomez, which is a little unfortunate because I was interested in seeing his swing, which has reportedly been reduced in ridiculousness.
Nevertheless, it was a great game to watch, as the Twins got several strong performances and racked up 12 hits in a 5-3 victory over the Birds. Here are a few things I observed over the course of the game...
* I've been one of Joe Crede's biggest detractors this spring, so it figures that he'd wait for the game I attended in person to break out offensively. After entering the contest with an .083 spring batting average, Crede went 3-for-3 with a single, a double and a homer -- all pulled to left field. Indeed, Crede looked solid at the plate, but after watching him closely throughout the game I'm not convinced that he's close to 100 percent healthy.
In spite of his solid day at the plate, Crede didn't move around well. He seemed stiff and inflexible, and was unimpressive in the field. While his range was never really tested in the game, he failed to deliver accurately on several throws, including one which got away from Justin Morneau for an error in the first inning.
It was good to see Crede finally break his slump and hit the ball hard a few times, but I remain unsold on his health.
* Philip Humber got the start for the Twins and looked quite sharp, continually pumping the ball into the strike zone and getting a few swinging strikeouts with his curveball. I think Humber will certainly make the Twins' bullpen out of spring training, and if he is as effective with his fastball/curveball combo as he was over two hitless innings on Monday, I could see him finding success as a reliever.
* Relieving Humber in the third inning was Rule 5 draftee Jason Jones, and he looked far less impressive. Jones struggled to command his pitches and gave up several hard hits.
* Like Crede, Denard Span had entered the game in a bad spring slump, with just three singles in 31 at-bats. Yet, Span also broke free with a solid game, leading off for the Twins with a line drive single to right field and adding a triple in his third at-bat. I haven't been terribly concerned about
* I'm not ready to join the chorus of folks proclaiming that Wilson Ramos should be the Twins' Opening Day catcher in the event that Joe Mauer has to miss extended time, but I will say that the kid is built solid and looked further along than I expected. He flashed his power on double off the left field wall in his first at-bat, showed a strong arm, and looked awfully comfortable calling the game from behind the plate for a 21-year-old with no experience above A-ball.
* In the eighth inning, Trevor Plouffe hit a liner down the right field line, and checked in at second with a stand-up double. However, the Orioles felt Plouffe failed to touch first base on the play, and afterward they threw over to the bag on protest. Plouffe was called out. Not a good way for a young player to make a good impression on the big-league manager.
* Finally, here are a few pictures I snapped at the game. I didn't manage to get real close to the field so they're no the greatest, but should give you a little glimpse into the action (click on the pictures to enlarge):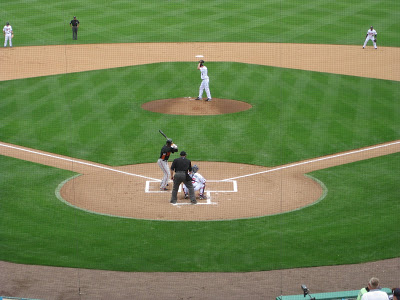 Philip Humber delivers in the first inning.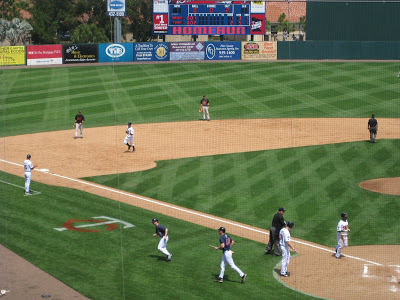 ... And later trots around the bases after a two-run homer.
Delmon Young, rocking a new high-socks look, takes some swings in the on-deck circle.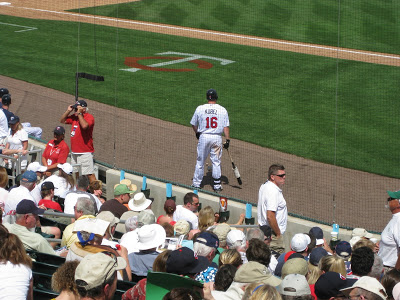 Jason Kubel on deck. He's having a very good spring.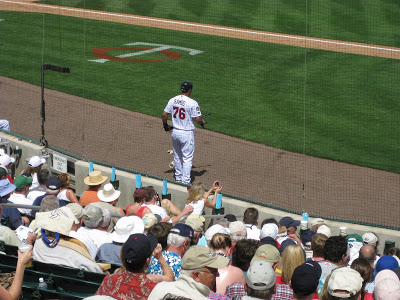 My No. 2 prospect, Wilson Ramos, who is gaining extra attention due to Joe Mauer's injury. This kid is put together.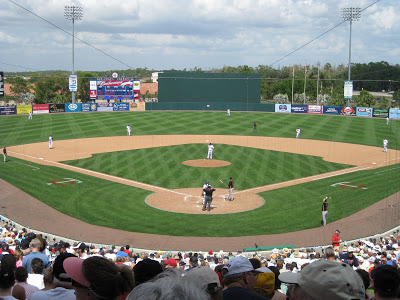 You can't really tell from this picture, but this seventh-inning alignment features Justin Morneau alongside arguably the Twins' top prospect at each infield position: Steve Tolleson at second, Trevor Plouffe at shortstop, Danny Valencia at third base and Wilson Ramos at catcher.
Call me a nerd, but I got downright giddy seeing all these guys on the field at once.