Projected Starter: Michael Cuddyer
2008 Stats: .249/.330/.369, 3 HR, 36 RBI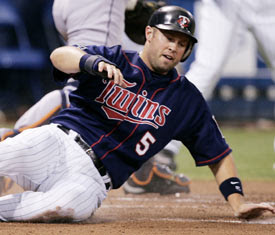 Potential Backups: Delmon Young, Denard Span, Jason Kubel, Jason Pridie
Michael Cuddyer is one of the biggest wild cards for the 2009 Minnesota Twins. If he can simply stay on the field, he should be expected to post numbers around his career line of .268/.344/.441. If he can actually stay fully healthy for the entire season, we could see him return to the level he was at in 2006. Either of those outcomes would be a significant upgrade over what either he or Delmon Young did last season. Cuddyer's presence in the lineup figures to lead to an improvement, one way or another.
It's now been two full years since 2006, when Cuddyer seemingly had a breakout season that entrenched him as that crucial right-handed bat which could be wedged between Joe Mauer and Justin Morneau in the lineup. Cuddyer played solidly over the first half of the 2007 season, but injuries caused him to struggle over the final couple months. Last year, more injuries limited Cuddyer to just 71 games, and even when he managed to play his ailments weighed on him, causing him to post the worst numbers of his career.
Cuddyer's standing in the clubhouse and his hefty contract guarantee him the starting job in right field to start the year, but his leash may not be terribly long. With Denard Span figuring to take the majority of playing time in left field, Young will be without a regular spot. Since right field is the position Young is best suited for, he stands as a ready replacement for Cuddyer in the event of another rash of injuries or poor performance.
I get the sense that Cuddyer is exasperated with the injuries he's dealt with over the past two seasons and is very motivated to stay healthy and productive this season. While I'm not convinced he will ever again post the type of numbers he did in '06, he definitely seems poised for a rebound. If he can hit for a decent average while posting an on-base percentage in the .360 range and smacking 30-35 doubles with 15-20 homers, Cuddyer will be a fine offensive player and a good fit in the middle of the lineup along with the big bats of Justin Morneau, Jason Kubel and (hopefully) Joe Mauer.
If Cuddyer succumbs to injuries once again, Young should be the man to step in. Young is well suited for right field in the Metrodome, where his limited range is less of a liability since there isn't as much ground to cover as the other outfield spots, and where his tremendous arm is most effectively utilized. I found Ron Gardenhire's decision to use Young in left and Span in right last year to be mystifying, so hopefully if Cuddyer goes down this year the roles of those two players will be swapped. I won't predict Young's specific numbers during the Position Analysis series since he doesn't project as a regular starter at any one position (he seems likely to split time between LF, RF and DH), but for what it's worth I do expect Young to take a solid stride forward this year, and maybe post numbers closer to the .295/.340/.480 line I
overzealously predicted
from him last year.
Having Young in place as a backup plan for Span and Cuddyer puts the Twins in a pretty comfortable position as far as their corner outfield spots go. When I wrote up the left field analysis earlier this week I explained that I don't expect a large regression from Span, so Young's best shot at landing a regular spot at a particular position might be in right field. He'll see some time there, I'm sure, but I foresee Cuddyer staying healthy for most of the year, holding down the right field job and adequately filling the No. 5 spot in the batting order.
Predicted 2009 Hitting Line for Cuddyer: .265/.355/.450, 15 HR, 80 RBI