Quick note here, folks. I'll be heading to Florida tomorrow to catch some spring training baseball and I won't be returning until Wednesday. I've already got Position Analysis pieces written up for the days I'm gone, so there will be no lack of new content here, but since I'm unsure what my Internet situation will be down there, I don't know whether I'll be able to quickly respond to emails/comments or cover any breaking news that might pop up. In any event, I'll be sure to give a full report next week on anything interesting that I catch while I'm in Ft. Myers, and I hope everyone has a great weekend and enjoys the televised games tomorrow and Sunday.

On to today's third base analysis, where I'll be discussing that fellow everyone seems so excited about...

Likely Starter: Joe Crede
2008 Stats: .248/.314/.460, 17 HR, 55 RBI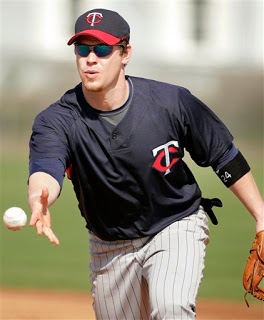 Can the Twins' sole prominent offseason acquisition match the hype?
Potential Backups: Brian Buscher, Brendan Harris
I've already covered the topic of Joe Crede so exhaustively that I don't feel like I've got much left to say. Crede has generated much excitement among the fan base, for various reasons. He was the team's only significant offseason addition, he has a history of hitting for power and driving in runs, he was an All Star last year, and he's hit the Twins pretty hard at times in the past while playing for the rival White Sox.
There is some legitimate reason to feel optimistic about Crede. If he can stay healthy, he's likely to provide a big defensive upgrade at third base, and he showed his power last year while slugging .460 and hitting 17 homers in an injury-shortened campaign. People look at those numbers and get wide-eyed, but unfortunately tend to look right past the .248 batting average and .314 on-base percentage he also posted last year. Those figures are not out of the ordinary for Crede; for his career, the third baseman has posted a .257 batting average and .306 OBP. Only once in the past six years has Crede hit better than .261 or gotten on base at a clip higher than .314, and it was in that 2006 season which many elect to use as a baseline for his performance even though it was as much an outlier as Michael Cuddyer's '06.
If he's healthy, Crede should be expected to deliver reasonable power numbers and solid defense while hitting for a poor average and making a ton of outs. A player like that is not without value, but those who are expecting Crede to be a superstar who will single-handedly turn around the team's fortunes are bound to be disappointed. And that's if he's healthy.
Of course, Crede's health is a major question mark. He's missed 180 games over the past two years and has undergone surgeries on his back in each of the past two offseasons. Crede claims to be back near full health, but the fact that the Twins were one of only two teams that seemingly showed any real interest in him this offseason, coupled with the fact that he was reduced to signing a $2.5 million one-year deal loaded with incentives despite employing hardball negotiator Scott Boras as an agent, suggests that I'm not the only one out there with serious concerns over his ability to play and play effectively for the majority of the season.
The beauty of Crede's contract, though, is that it features relatively little committed money, so if injuries or performance issues prevent him from seeing a ton of playing time, he won't be sucking up a bunch of unearned cash. And, fortunately, the Twins have a pretty good contingency plan in place. Bill Smith said repeatedly that he would have been comfortable entering the season with a platoon of Brian Buscher and Brendan Harris at third base, and both those players will still be available if Crede can't get the job done. Ron Gardenhire's willingness to pull the plug on Crede in a timely fashion if needed will be the key to this equation, because having quality depth just doesn't do a whole lot of good if the manager is unwilling to use it.
Crede is the Twins' starting third baseman, and I'll be cheering for him every bit as hard as I cheer for any other player on this team. But I'll continue to encourage people to keep their expectations in check so that they're not shocked in the event that Crede's offensive performance fails to live up to the hype, or he spends the majority of the season on the disabled list. There are plenty of obstacles, but if everything goes right Crede is capable of providing the Twins with a firm upgrade over Harris and Buscher at the hot corner. And, if he can't, well... Harris and Buscher aren't all that terrible themselves.
Predicted 2009 Hitting Line for Crede: .255/.300/.425, 12 HR, 50 RBI