I took part in an AL Central preview podcast last week in which Seth Stohs interviewed bloggers from each division team and got their thoughts on the division. When talking about the Twins, the part of the team that nearly everyone mentioned first was the starting rotation. Fans of other teams (and the other teams themselves, I'm sure) greatly respect the Twins' stable of starting pitchers, and with good reason. It's a young and talented group that is very solid one-through-five; in fact, their weakest link is a hard-throwing left-hander who was formerly a top prospect and who just posted a 4.41 ERA in his rookie season.
Regression and injuries are bound to occur, but entering the season, the rotation appears to be the Twins' strongest unit. The depth behind these five is fairly questionable, but if everyone can stay on the field and continue to improve, this group has the potential to carry the Twins into October. Let's take a look at each member of The Fab Five:
Scott Baker
2008 Stats: 172.1 IP, 11-4, 3.45 ERA, 141 K / 42 BB, 1.18 WHIP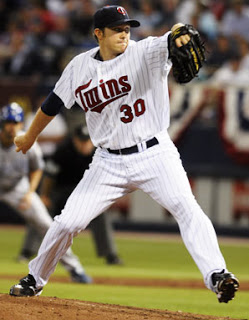 At the beginning of the 2007 season, Baker was an afterthought in the minds of most Twins fans, as he was coming off a putrid 2006 campaign and had become lost in the shuffle behind guys like Johan Santana, Matt Garza, Boof Bonser, Carlos Silva, Kevin Slowey, Ramon Ortiz and Sidney Ponson. Two years later, hes slated to be the team's Opening Day starter, and with good reason. Throughout the 2008 season, Baker was the Twins most steady and reliable starter. While he might not match his 3.45 ERA from a year ago, he should continue to be a rock at the top of the Twins' rotation.
Francisco Liriano
2008 Stats: 76 IP, 6-4, 3.91 ERA, 67 K / 32 BB, 1.40 WHIP
When he first joined the Twins' rotation in 2006, Liriano had a pretty spectacular stretch, going 9-1 with a 1.36 ERA and 0.83 WHIP over his first 10 starts. Last year, when he rejoined the Twins' rotation in August after spending three months in the minors, Liriano brought back fond memories, going 5-0 with a 1.57 ERA and 0.95 WHIP in his first eight starts. Of course, last year's Liriano wasn't quite as electric as the rookie version, and his overall season last year wasn't nearly as amazing due to the struggles in April and late September, but Liriano reminded us all that he's capable of dominating major-league hitters even after undergoing Tommy John surgery. A full season of performance anywhere close to the level he pitched at in August of last year, and Liriano is an ace type pitcher and a terrific complement to Baker atop the rotation. Frisco's surgically repaired elbow held up through 199 1/3 total innings last season; we'll be crossing our fingers and hoping it can survive a similar workload this year.
Kevin Slowey
2008 Stats: 160.1 IP, 12-11, 3.99 ERA, 123 K / 24 BB, 1.15 WHIP
Slowey might be the starter I'm most excited to watch this year. He had his hiccups in his first full season last year, but also tossed a few absolute gems (two shutouts and a 12-strikeout performance against Oakland come to mind). Slowey is not a fireballer and he lacks great secondary stuff, but he's one of the most poised and intelligent pitchers I've seen. He'll always give up a fair number of homers, but as long as he can continue to limit their damage by keeping runners off the bases (his WHIP would have ranked fourth in the AL last year had he not narrowly missed qualifying), he'll be successful.
Glen Perkins
2008 Stats: 151 IP, 12-4, 4.41 ERA, 74 K / 39 BB, 1.47 WHIP
Perkins will probably slot as the Twins No. 4 starter due to Ron Gardenhire's preference to alternate righties and lefties in the rotation (even though this doesn't really matter -- there will be two consecutive right-handers no matter what alignment he chooses), for all intents and purposes he enters the season as the team's fifth starter. He's probably the guy worth worrying about most; with his high hit rate, low ground ball rate and paltry strikeout rate, his 12 wins and 3.96 ERA entering September last year seemed like the stuff of smoke and mirrors. Sure enough, over the season's final month he posted a 7.45 ERA while allowing 33 hits and seven homers in 19 1/3 innings. I remain bullish on Perkins though, and while he's not destined to post outstanding numbers if he pitches the way he did last year, by continuing to make adjustments he can certainly hold up as a quality back-of-the-rotation starter. It'd be great if he could remember how to miss bats the way he did in the minors, where he struck out more than a batter per inning.
Nick Blackburn
2008 Stats: 193.3 IP, 11-11, 4.05 ERA, 96 K / 39 BB, 1.36 WHIP
It was a surprise to most that Blackburn made the Twins' rotation out of spring training last year. It was probably a surprise to all that he stayed there for the whole season, posting solid numbers and leading the team in innings. Aside from his excellent walk rate, nothing on Blackburn's stat sheet jumps out at you. He had a .500 record and a middling strikeout rate. He gave up a fairly high number of hits and gave up some homers. His ERA was exactly league average. Yet, getting that kind of production over 200 innings from the back end of your rotation -- particularly from a guy who had zero experience in a big-league rotation -- has plenty of value, which is why Blackburn received a few Rookie of the Year votes. Blackburn must now prove that his successful '08 season was not a fluke, but with his ability to attack the strike zone and induce ground balls at a solid rate, he's hardly a major concern.