It's that time of year again. In the middle of March each year since this blog's creation, we have done the Position Analysis series, in which we break down the Twins' situation at every position on the field. For each spot, I'll project the likely starter (which shouldn't be too tough this year), sort through potential backups, and finally predict what the starting player will do offensively this season. Today, we kick off the series with the catcher position, where a familiar face is looking to build on another outstanding season...

Likely Starter: Joe Mauer
2008 Stats: .328/.413/.451, 9 HR, 85 RBI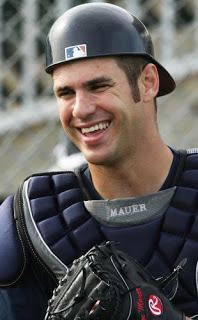 Will Mauer chase another batting title in '09?
Potential Backups: Mike Redmond, Jose Morales

The Twins continue to be one of the most well set teams in all the majors at the catching position. Joe Mauer is coming off a season in which he captured his second AL batting title and won his first Gold Glove, and Mike Redmond remains the perfect caddy for Mauer, with his ability to hit left-handed pitching and handle the pitching staff well while providing a tremendous clubhouse presence.
After being limited by injuries in 2007, Mauer was fully healthy and hugely productive last year. Playing in a career-high 146 games and racking up a career-high 633 plate appearances allowed Mauer to put up the best counting stats of his career, as he scored 98 times, drove in 85 runs, and drew 84 walks. Those marks ranked Mauer first, fourth and second among major-league catchers, respectively. While his power numbers failed to grow (31 doubles, four triples, nine home runs), Mauer also hit .362/.465/.449 with runners in scoring position, so it'd be tough to accuse him of being a poor fit in the No. 3 spot in the lineup. Mauer led the Twins and ranked sixth in the majors with a 4.88 WPA (Win Probability Added); the next catcher on that list was Russell Martin who ranked 20th.
Staying healthy last year allowed Mauer to post MVP-caliber numbers for the second time in his relatively short career, and if he can remain healthy this year there's no reason why he shouldn't be able to do so again at the age of 26. Unfortunately, he hasn't gotten this year off to the best start in the health department, as recovery from offseason kidney surgery has kept him out the lineup this spring and some doubt has now arisen regarding his status for Opening Day. He's scheduled to undergo an MRI exam tomorrow to get to the root of the problem, and hopefully the results will be positive, but the notion that Redmond will be in the starting lineup on April 6 is starting to shift from plausible to likely.


For his part, Redmond had a somewhat poor offensive season last year, posting a 654 OPS that stands as the lowest during his tenure in Minnesota. Of course, he was also 37 years old and never had much of a chance to get into a rhythm, as Mauer's consistent health limited Redmond to just 38 game appearances. The hope is that the same thing can happen this year, as Redmond's effectiveness is unlikely to rebound much at the age of 38. He can still call a game and serve as a valuable backup, but should Mauer go down for any extended period of time, the Twins will probably want to look to Jose Morales, a quality backstop who has reportedly put some serious ankle problems behind him.

Mauer first came up in 2004 and was excellent that season despite missing much of the campaign due to a knee injury. In 2005, he took a step backward, but came back strong with a phenomenal '06 campaign. Mauer had another down year in 2007 and once again bounced back with brilliant numbers in 2008. If he follows his career pattern, Mauer is due for a bit of regression this year, but it bears noting that a "down year" for Joe Mauer is still a very good season, and he now seems so in control of all aspects of his game that it's tough to see him posting anything less than outstanding numbers.
I see another very good year on the horizon for Mauer, but as always, health will be the biggest key.

Predicted 2009 Hitting Line for Mauer: .305/.400/.440, 10 HR, 75 RBI