Likely Starter: Justin Morneau
2008 Stats: .300/.374/.499, 23 HR, 129 RBI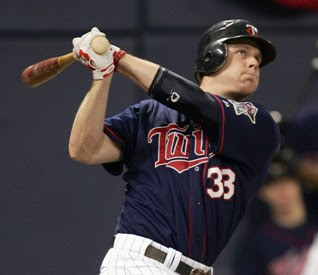 Can Morneau avoid another September thaw?
Potential Backups: Michael Cuddyer, Brian Buscher, Brendan Harris
If not for an ugly final few weeks last year, the season may have had a very different conclusion for Justin Morneau. After all, the slugging first baseman finished second in the AL Most Valuable Player voting behind Dustin Pedroia despite hitting just .243/.298/.398 in a September during which the Twins went 11-15 and failed to make up a half-game deficit to the White Sox. Had Morneau maintained the type of hitting line he carried into September (.312/.388/.519) the Twins would likely have made the playoffs and the Morneau would likely have been hoisting his second MVP trophy.
Of course, there are plenty of other reasons the Twins narrowly missed the playoffs last season, and a poor final month does not take away from the fact that Morneau put together another solid campaign and was a driving force in the team's success thanks to his incredible production in scoring opportunities. Despite not ranking among the American League's top ten hitters in terms of OPS, Morneau was able to drive in 129 runs -- ranking him second behind Josh Hamilton's 130 -- in large part thanks to a magnificent .348/.443/.602 line with runners in scoring position and a huge number of opportunities created over the 163 games he started.
I wrote back in late November about what I termed
Morneau's mysterious legacy
*, making not e of the fact that, in spite of his overall numbers not painting him as one of the league's truly elite hitters, he is clearly viewed by one by his peers, by coaches, by fans and by the media. That's evident in the fact that he was intentionally walked 16 times last year -- tying him for the league lead. It's evident in the fact that he finished second in the MVP voting even with a limping finish to the season and with the Twins missing the playoffs. And it's evident in the adulation he receives from his teammates, his opponents, and talking heads around the country.
When you watch Morneau play, he sure looks like an elite hitter. So maybe this is the year his numbers finally catch up with his reputation. It's not hard to see what the key will be in order for this to happen: he needs to avoid slumps. Weak finishes have dampened Morneau's final numbers in each of the past two seasons, and in his MVP campaign in 2006 a terrible start to the year prevented his overall numbers from being even better than they were. If Morneau can cut out the month-long dry spells, he should certainly be capable of putting up numbers that place him among the league leaders in every category, not just runs batted in. He's unlikely to perform quite so well with runners in scoring position this year, so if Morneau wants to continue to be the monstrous run-producing force he was last season, an overall uptick in production may be necessary.
One encouraging thing to keep an eye on with Morneau is his plate discipline. Four years ago, he struck out more than twice as many times as he walked (94 K/44 BB). He has improved his strikeout-to-walk ratio with each passing year, and last season the two figures were nearly even (85 K/76 BB). This is partially attributable to the fact that opposing hurlers have been pitching around Morneau far more often than they used to, but from watching him it is clear that he has developed a much more discerning eye at the plate. If he can continue to refine his pitch selection this year, he could see a boost in all of his offensive numbers as he'll be able to draw more walks and make better contact while batting in more hitter's counts.
Morneau has been an iron man over the past several seasons and showed up in camp in great shape, so there's little reason for concern about his health. Yet, if he should go down, the backups options aren't terribly enticing. Michael Cuddyer and Brian Buscher figure to be the top backups, and neither is likely to be an above average hitter or fielder at first base.
Morneau probably won't make 163 starts again this year, but he is expected to be a regular fixture in the Twins lineup and there's little reason to believe he won't once again be one of the league's best run-producing first basemen.
Predicted 2009 Hitting Line for Morneau: .300/.390/.515, 30 HR, 115 RBI
[*On a side note, if you haven't read it before, I strongly recommend going back and taking a look over the aforementioned
Morneau's Mysterious Legacy
post from last November and the comments that it generated. I really feel that it was one of the most interesting discussions this blog has created.]