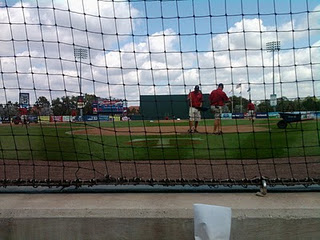 I regret to report that I have in fact returned from my week-long getaway to sunny Southwest Florida. It was a great trip and I spent plenty of time down at the ballpark, so let's cut to the chase and go over a few observations, thoughts and pictures from spring training:
* The timing of my trip to Florida (and specifically my trips to Hammond Stadium) worked well in that I was able to witness a number of important firsts for the Twins this spring. As I mentioned
last Wednesday
, I made it down to the minor-league fields at Lee County Sports Complex on Tuesday just in time to catch a bit of Justin Morneau's first live game action since last July, as the first baseman participated in a B-game against the Pirates.
Three days later, I was in attendance for Morneau's Grapefruit League debut against the Red Sox. He went 0-for-2, going down on a called third strike in his first at-bat and then reaching on a Carl Crawford error in his second. Morneau also cleanly fielded a couple grounders. There was nothing particularly noteworthy about his performance, but the fact that he was out there and generally looking like his old self is plenty encouraging, especially considering that a week ago it seemed his return was nowhere in sight.
Morneau's first official AB since July 7th of last year.
* I missed a chance to witness another big first on Saturday, as I arrived at the complex just minutes after Joe Mauer wrapped up catching his first bullpen session of the spring. He caught another session on Sunday and while he continues to deal with some soreness in his knee it sounds like he'll start getting into games as DH this week. The situation remains uncertain, but the best thing I can say at this point is that Mauer still has almost three weeks to get himself ready for Opening Day.
* On a side note, I was struck by the fact that Ron Gardenhire gave no advance notice to the media that Morneau would be playing in Tuesday's game (as a reporter on hand told me, Morneau simply went on the field and started warming up, causing a lot of scurrying). Later in the week, when asked by reporters how close Mauer was to catching a bullpen session, Gardenhire
indicated the timetable
by spreading his arms open wide and saying "this much," before adding, "You can write that." The very morning this was reported, Mauer caught a bullpen session.
I have no way of knowing whether these were smokescreens intended to deceive or the innocent result of a manager being as blindsided as the rest of us by his star players' important spring milestones, but considering Gardenhire's
recent vocal frustration
with how quickly news reports are traveling through the media these days (most notably through Twitter), it seems rather conspicuous.
In the event that Gardy is actually starting to build barricades between himself and the media, it's going to be a long season for the reporters who cover the team, as well as the fans who rely on those reporters to get their fix.
* Much of the team traveled to Jupiter on Saturday for an exhibition match-up against the Cardinals, but there was still plenty to see around the Twins' spring training complex. When I arrived in the morning I happened upon Justin Morneau, Jim Thome, Jason Kubel and prospect Joe Benson taking batting practice. Interestingly, the guy from that group who hit the most balls over the fence while I was spectating was Benson (though it's worth noting that he was the only righty, and a left-hander was throwing the BP session). Think he felt like he had something to prove while being grouped with those guys?
Jim Thome gets his hacks in, while Joe Benson (No. 87) looks on.
* The next group to take batting practice included Michael Cuddyer, which is notable because it was his first BP session since undergoing surgery to remove a wart on his foot. Cuddyer put on quite a show, launching the majority of pitches over the left field fence. I don't often watch batting practice but I'm told this is routine for him; nevertheless, a good sign.
* One player I was interested in seeing was Pat Neshek, who's looking to take a step forward in his second season back from Tommy John surgery and could be key to the bullpen's success this season. Unfortunately, when I watched him pitch an inning against the Pirates on Tuesday, the side-winding righty did not look sharp. According to the stadium scoreboard, he only topped 84 mph once (though I can't vouch for the accuracy of the radar gun at Hammond) and he seemed to have a hard time hitting the catcher's mitt.
* Another player I was excited to check out was, of course, the Japanese import Tsuyoshi Nishioka. He started at second in both games I attended and I also had a chance to see him take some batting practice on Saturday.
Nishioka certainly presents an interesting dynamic. His interpreter is around at all times during practice, and when he chats with teammates there's a delay between statement and reaction on both sides. Given his skinny, athletic build and deliberate, methodical mannerisms it's not hard to see why folks would draw superficial comparisons to Ichiro.
I can't make any real judgments about his play based on the very limited sample I witnessed, but I will say that in the games I saw him in I don't think he hit a single ball hard (he did have a couple singles, a ground ball and a blooper). Even in batting practice, he seemed to hit a relatively high number of weak grounders and soft liners, but that could be part of his approach during practice. Defensively, he looked comfortable at second base and made a great diving play on a hard-hit hopper up the middle off the bat of Jacoby Ellsbury in Friday's game.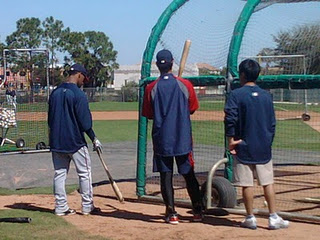 Alexi Casilla, Tsuyoshi Nishioka and Nishioka's translator during BP.
* Ben Revere is fun to watch. He wasn't on the field a ton during the games I attended, but in his limited time I saw him lay down a perfect bunt, steal third base and make a spectacular diving catch in the left-center gap. With his lefty swing, smallish stature and big smile, I think we'll see a lot of Twins fans compare Revere to Jacque Jones, especially now that he's switched his uniform number to 11.
* I spent some time hanging around the minor-league fields, watching some of the organization's prospects run, throw and take part in drills (the actual games for minor leaguers don't start until this week). It was cool to put faces to some of the names I've been following and haven't previously had a chance to see. Liam Hendriks is listed at 6'1", but compared to other top pitching prospects like Kyle Gibson (6'6"), David Bromberg (6'5") and Billy Bullock (6'6") he seemed downright diminutive. Conversely, Miguel Sano might (allegedly) only be 17, but he stood out physically like a man among boys with the other minor-leaguers he was doing drills with.
Mostly, the thing that struck me while hanging out at the minor league fields was how young these kids are. We get so caught up in the stat sheets and projections that we can forget many of these guys are fresh out of high school and extreme long-shots to ever see major-league action. Largely, the players working out in the minor-league area are friendly, outgoing, and-- for anyone who's played organized baseball and worked through the endless tedious drills -- relatable.
* On my last note, I'll veer away from baseball and toward -- what else? -- food. La Velle had the restaurant situation around Ft. Myers pretty well covered in
his guide
(I tried Michelbob's for BBQ and Iguana Mia for Mexican -- both thumbs-up) but the best food I had during my stay was at a Cuban restaurant called Fernandez the Bull. There are two locations, both in Naples (about 40 minutes from Ft. Myers) but if you're at all into Cuban food it's definitely worth the trip.