Yesterday, I broke down the starting rotation, which I deemed to be "the club's strongest and deepest position." Today we look at a unit that falls on the opposite end of the spectrum. Unless you're engaging in starry-eyed optimism, it's tough to view the bullpen as a strength for the Twins as we enter the 2011 season. They lost several quality relief arms during the offseason and signed no one to replace any of them, so much will hinge on a return to form from Joe Nathan and the emergence of several unproven hurlers in unfamiliar roles.
Fortunately, the bullpen is certainly an area that can be improved over the course of the summer through in-season acquisitions, but that means parting with assets when there were a number of established relief pitchers available for nothing but a few million dollars (or less) during the offseason.
Let's take a look at how the bullpen shapes up as we enter the 2011 season:
Joe Nathan
2010 Stats: Did not pitch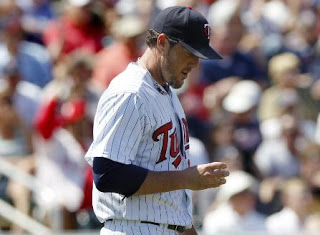 Charles Krupa, AP
After missing the 2010 season with Tommy John surgery, Nathan entered spring training this year under the pretense that he would have to earn back a closer role that had been held by incumbent Matt Capps. As it turns out, the basis for the coaching staff's evaluation on this matter was not performance, as Nathan has been awarded closing duties despite allowing nine runs on 10 hits over 7 1/3 innings this month with four walks and only three strikeouts. Those numbers are certainly concerning coming from someone who hasn't pitched in a year after undergoing a serious elbow operation, but the Twins like what they've seen in terms of velocity and command from Nathan so hopefully their confidence is well warranted. If not, they do have the luxury of Capps waiting in the setup role.

Matt Capps
2010 Stats: 73 IP, 42 SV, 2.47 ERA, 1.26 WHIP, 59/17 K/BB
The Twins gave up too much to get Capps at the trade deadline last July and this year they're paying him too much money. What's done is done, though, and at this point we're better off appreciating what he provides to the bullpen. Nathan's status will remain a question mark until we've seen him successfully close out several games, and should his spring training struggles persist Ron Gardenhire won't hesitate in shifting the proven Capps into the role. That's not a good scenario, since someone else would have to fill Capps' role as top right-handed setup man and no other candidate for that role has much experience pitching high-leverage relief innings in the majors.
Jose Mijares
2010 Stats: 32.2 IP, 3.31 ERA, 1.32 WHIP, 28/9 K/BB
The 2010 season was a forgettable one for Mijares. Injuries limited him to about half of his normal workload, and when he was on the field he often lacked his typical sharpness. This year, the lefty is reportedly
adding a two-seam fastball to his repertoire
, which should improve his results against right-handed hitters (a vital skill in a bullpen that already includes two other left-handers). Mijares came to camp looking trimmer this year; if healthy, he should be a quality late-inning option throughout the season.
Kevin Slowey
2010 Stats: 155.2 IP, 13-6, 4.45 ERA, 1.29 WHIP, 116/29 K/BB
Setting expectations for Slowey the reliever is not easy. We know that he's a good pitcher, and it's not hard to see his outstanding control being a real asset in the bullpen. Then again, he's made only four relief appearances in his major-league career after serving as a starter almost exclusively throughout the minors, so this is new territory for the righty. How will he handle being called on to throw in tight late-game situations? Will pitching in one-inning stints allow him to add a few ticks to his 89-mph fastball? Will his secondary stuff be maximized? Slowey certainly has the potential to succeed in relief, but like many other members of this unit he's a question mark.

Glen Perkins
2010 Stats: 21.2 IP, 5.82 ERA, 1.57 WHIP, 14/5 K/BB
As a 28-year-old who's out of options and hasn't been effective since the 2008 season, Perkins seemed like a lock to be non-tendered this offseason. Instead, the Twins gave him a contract and now a spot in their bullpen. The team has cited Perkins' solid performance while pitching in relief last September as a key reason for retaining him, but -- even looking beyond the fact that opponents hit .326 against him during that minuscule 12-inning sample -- this seems awfully short-sighted. Perkins doesn't miss bats, has been bad against lefties and has always been a guy who's allowed a lot of base runners. I don't get it.
Dusty Hughes
2010 Stats: 56.1 IP, 3.83 ERA, 1.47 WHIP, 34/24 K/BB
The Twins were very impressed when they faced Hughes as a left-handed reliever for the Royals last year. It's not hard to see why; when playing against Minnesota the southpaw allowed only three runs on nine hits over 13 1/3 innings. Unfortunately, he'll no longer be able to face the Twins and against all other opponents Hughes posted a 4.40 ERA, 1.60 WHIP and 28-to-19 strikeout-to-walk ratio over 43 innings. In other words, he wasn't very good, and it was his first extended look in the majors as a 28-year-old who'd been fairly unspectacular in the minors. Dedicating two spots in a questionable bullpen to pitchers like Hughes and Perkins strikes me as an extremely bizarre decision.
Jeff Manship
2010 Stats: 29 IP, 5.28 ERA, 1.38 WHIP, 21/6 K/BB
Rounding out the bullpen at the onset of the 2010 season will be Manship, a guy who spent some time there last season. In his big-league career, the right-hander has posted a 5.28 ERA and 1.55 WHIP, which aren't exactly the kind of numbers that inspire late-inning confidence. Manship has been quite hittable ever since reaching reaching the highest levels (he's allowed 260 hits over 209 1/3 innings between Triple-A and the majors) and unless that changes he won't be particularly useful. It will be interesting to see how Gardenhire elects to utilize him.