Likely Starter: Justin Morneau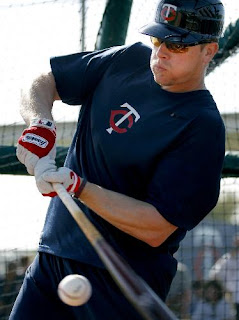 Carlos Gonzalez, Star Tribune)
Potential Backups: Michael Cuddyer, Justin Huber, Jeff Bailey
When he's been in the lineup, production has never been an issue for Justin Morneau. Over the past five years, the Canadian first baseman has consistently been among the most productive in the league at his position, averaging a .900 OPS with 27 home runs and 105 RBI.
The issue for Morneau, recently, has been staying in the lineup. In both 2009 and 2010, he missed lengthy stretches of time due to freak injuries; first a fractured vertebrae, then a severe concussion.
To their credit, the Twins have made do without the former MVP in each of those two seasons, surging to postseason berths with Michael Cuddyer filling in at first base. Still, it's clearly a situation they'd like to avoid this year. There's no doubt that Morneau, with his uncommon ability to hit for both average and power with increasingly excellent plate discipline, can have a profound impact on the offense's fortunes when he's performing at peak level.
Morneau missed the final three months of the 2010 season due to concussion symptoms that persisted into the offseason and even into early spring. He overcame a huge hurdle last week by making his Grapefruit League debut on Friday, marking the first time in more than eight months he'd taken part in a live baseball game.
By his account, Morneau's symptoms are finally just now clearing up. That the afflictions which haunted him for eight months would suddenly disappear just weeks before the start of the baseball season seems awfully convenient, so it's entirely possible that they've grown more mild and he's simply decided to start pushing through them a little more than he's been willing to in the past. Either way, Morneau is now taking part in all baseball-related activities and, barring a setback, he's on pace to take the field on April 1st when the Twins return to Rogers Centre for the first time since he suffered his concussion there last July.
Projecting the slugger's performance for this year is exceedingly difficult. He's a tremendously talented hitter and last year, prior to the mishap in Toronto, he was putting together the most impressive offensive campaign of his career. If he can pick up where he left off it'd be a coup, but I'm hesitant to expect that for two reasons: residual injury effects and plain old rust.
Ideally, Morneau will be completely free of symptoms from the get-go this season, putting the traumatic brain injury behind him without issue. That's a best case scenario but probably not an entirely realistic one. Given the persistence of the concussion's lingering after-effects throughout the offseason it's hard to imagine he won't at least experience some minor symptoms as he attempts to return to everyday duty. Should he encounter some level of fogginess, nausea or sensitivity to light, one has to wonder how it will impact his performance as he attempts to read, register and swing at 95 mph fastballs and wicked breaking pitches.
Even if he does fully overcome concussion symptoms, we must acknowledge the fact that Morneau is returning from what is likely his longest hiatus from the sport since he began playing it. Not only has he been unable to participate in games for the past eight months, he has largely been unable to even take part in off-the-field activities designed to keep his skills sharp (such as batting practice and fielding drills). If he gets off to a bit of a slow start, it shouldn't come as a surprise.
It goes without saying that Morneau will now be extremely susceptible to any type of blow to the head. While every possible measure will be taken to protect his cranium, certain incidents are unavoidable. I suspect the Twins will show maximum caution with him this year, providing him with more frequent days off and holding him out of the lineup for weeks (or months) should symptoms reemerge.
With this being the case, it seemingly would have made sense for the front office to invest in some sort of legitimate backup who could keep Cuddyer, Jason Kubel and Jim Thome in their natural (and most suitable) roles. Unfortunately, it looks like Cuddyer will be Morneau's sole legitimate backup; no other candidate to play the position can be found on the 40-man roster (save for Chris Parmelee, who is a far cry from big-league ready).
Much like with Joe Mauer, Morneau's health is a question mark and the depth behind him is less than stellar, so the Twins will have to cross their fingers and hope for the best. We have a lot more reason for optimism than we did just a couple weeks ago, but there's a distant chasm between appearing in a couple exhibition games and permanently conquering one of the most serious concussion cases in recent history. Morneau's challenge is just beginning.
Predicted 2011 Hitting Line for Morneau: .290/.360/.480, 25 HR, 100 RBI