The Twins entered the offseason with five established starting pitchers under their control for 2011. By re-signing Carl Pavano, they upped that number to six and created a logjam of sorts. With jobs guaranteed to the top two starters, Pavano and Francisco Liriano, four pitchers were tabbed to compete for the final three rotation spots during spring training.
As it turns out, all four of those pitchers have performed well this month, so it comes as no shock that the odd man out is Kevin Slowey, a talented right-handed hurler who's had some friction with the organization and was left off the postseason roster despite winning 13 games last year.
While I don't necessarily agree with the decision to start Slowey in the bullpen, his presence there gives the Twins a quick and competent fall-back option should one of the top five starters falter or suffer an injury. Each of the Twins' six starters has a track record of big-league success and the organization also has top pitching prospect Kyle Gibson waiting in the wings at Triple-A, so as we enter the 2011 season the starting rotation appears to be the club's strongest and deepest position.
Carl Pavano
2010 Stats: 221 IP, 17-11, 3.75 ERA, 1.19 WHIP, 117/37 K/BB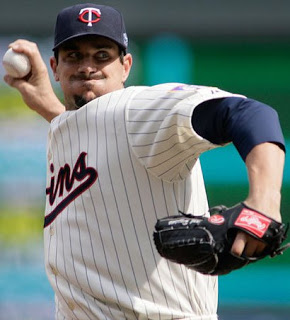 I don't think Pavano's a better pitcher than Liriano, but the argument can certainly be made that he had a better season in 2010 and there's nothing wrong with giving him the veteran nod as Opening Day starter this year. Pavano has earned the billing with a lights-out spring training, allowing only six earned runs in 25 innings over five starts. His dramatic drop-off in strikeout rate in the waning months last season was somewhat unsettling, but all the Twins need from Pavano is 200 solid innings to make his $8 million salary look like a bargain. His FIP has been right around 4.00 in each of the past two years so that should be his baseline expectation.
Francisco Liriano
2010 Stats: 191.2 IP, 14-10, 3.62 ERA, 1.26 WHIP, 201/58 K/BB
Liriano has become a rather controversial figure here in Minnesota. Debates swirl around whether or not he's a "true ace," whether his occasional struggles are more attributable to bad luck or mental weakness, and whether the Twins would be wise to trade him before supposedly inevitable injuries decimate his value. What should be universally agreed upon is that Liriano is a very talented pitcher whose arsenal is among the filthiest in baseball, and at age 27 he's still just entering his prime years. The lefty was victimized by an abnormally high number of bleeders, bloopers and seeing-eye singles last year, but these things tend to go in cycles. I expect him to be phenomenal in 2011, and when the year's over I expect the front office to be cursing themselves for failing to at least more actively pursue a three- or four-year deal this past offseason.
Brian Duensing
2010 Stats: 130.2 IP, 10-3, 2.62 ERA, 1.20 WHIP, 78/35 K/BB
By virtue of his outstanding performance last year, Duensing was the first "bubble guy" to be awarded a spot in the rotation this spring. He'll pitch fifth sequentially to split up the lefties, but for all intents and purposes Ron Gardenhire views Duensing as his No. 3. That title seems to be more than earned based on the southpaw's core numbers over the past two years (15-5 with a 3.02 ERA) but a deeper glance shows a rather unspectacular 1.98 strikeout-to-walk ratio and a huge disparity in performance against lefties (.502 OPS) and righties (.747 OPS). Opposing managers will undoubtedly be stacking their lineups with right-handed batters, so Duensing will have his work cut out for him. Matching last year's magic will be an exceedingly tall task.
Nick Blackburn
2010 Stats: 161 IP, 10-12, 5.42 ERA, 1.45 WHIP, 68/40 K/BB
From an outside perspective, it's tough to understand why Blackburn would have been promised a rotation spot so quickly this spring. Last year he remained one of the most hittable pitchers in baseball, and for good measure he also posted the highest walk rate and lowest strikeout rate of his career. The result was a mostly disastrous campaign that saw him demoted to the minors in late July with a 6.66 ERA, though he returned and pitched well down the stretch to finish with a 10-12 record and 5.42 ERA. The key factors in the Twins' decision were Blackburn's previous history as an effective starter (he tossed about 200 innings with an above-average ERA in both 2008 and 2009), his newly minted long-term contract and his good standing with the manager. While Blackburn's extreme contact tendencies can be hard to stomach, it's tough to downplay his value those first two seasons and the fact that a nagging elbow injury likely contributed to his struggles last year. If he gets bombed over the first couple months, Slowey will be ready to step in.
Scott Baker
2010 Stats: 170.1 IP, 12-9, 4.49 ERA, 1.34 WHIP, 148/43 K/BB
Only 10 American League starters averaged more strikeouts per nine innings than Baker last year, and only 11 averaged fewer walks. Not many teams can make a claim like that about their fifth starter, but the truth is that Baker is the team's No. 5 guy in name only -- ultimately there's a very strong chance that he'll end up being a more effective pitcher than either of the two above him here. In order to make his results match his outstanding peripherals, Baker will focus on two things this year: staying healthy and limiting base runners. His elbow bothered him at times throughout the 2010 campaign and continued to cause issues early this spring. And while his fly ball tendencies will always make him somewhat homer-prone, the long balls do a lot less damage when nobody's on base. Last year Baker posted his highest WHIP (1.34) since 2006.