Today I launch my annual Position Analysis series. Over the next few weeks, I'll break down each position on the 2011 Twins, sorting through depth and setting expectations for the starter's performance.
Likely Starter: Joe Mauer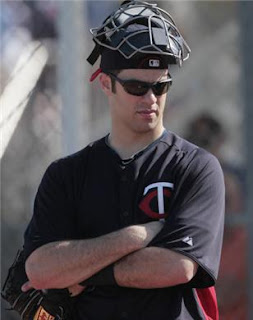 Potential Backups: Drew Butera, Steve Holm, Rene Rivera
We kick off this year's series of Position Analysis pieces with the most important position for the Twins: catcher. I say this not just because the starter there is the team's best and highest paid player, but also because the drop-off from starter to backup is the most drastic on the roster -- and perhaps in all of baseball.
As such, the health of Joe Mauer will be paramount to the Twins' success this year. Quite simply, if Mauer is healthy he'll be one of the best players in the league and a pivotal difference-maker. The three times in his career that he's amassed 600-plus plate appearances in a season, Mauer has won three batting titles and finished first, fourth and sixth in the American League MVP balloting.
The fact that he has reached that 600-PA plateau only three times in a seven-year career, however, helps illustrate what a pervasive issue the injuries have been. And this spring, as is often the case, the stud catcher's health is a point of uncertainty.
While Mauer managed 584 plate appearances over 137 games last season -- very respectable numbers for a catcher -- there's little doubt that various ailments took a toll on his performance. Over the course of the summer, he dealt with a bruised left heel, tendinitis in his right shoulder and inflammation in his left knee (not to mention other issues we likely weren't privy to). It's that last injury that has presented an ongoing concern.
Mauer's balky knee -- the same one that cost him most of his rookie season -- bogged him down late in the season and into the playoffs, sapping his power by
limiting his ability to push off from his back leg
. He underwent surgery during the offseason but
admitted
that when he reported to camp this spring he was "a mess"; and he's received multiple injections over the past several weeks to lubricate the achy joint. He caught two bullpen sessions over the weekend and is reportedly set to begin seeing some action at DH this week, but there's still no timetable for him start crouching behind the plate in actual games.
If the offseason surgery proves successful and Mauer's left knee is close to full strength this season, there's little reason to expect anything other than a stellar campaign. If not, we'll start seeing more and more (somewhat warranted) discourse about the necessity of a position switch, and we'll also be exposed to increased dosages of his backup, Drew Butera.
Butera is a good defensive catcher with an excellent arm, but his complete lack of ability with the bat renders him a considerable liability as a regular. His .533 OPS last season reflects his offensive chops with a fair amount of accuracy (he posted a .613 OPS in the minors) so if Mauer goes down and he becomes a starter, Butera essentially erases the AL advantage of a designated hitter because his production isn't far from what one would expect from a pitcher.
The depth behind Butera is even more disconcerting. The Twins signed a couple veteran minor-leaguers in Steve Holm and Rene Rivera during the offseason, but might be better off looking to one of their own prospects like Chris Hermann or Danny Lehmann. In any case, we'd be looking at a backup who would be extremely overmatched in the big leagues.
The hope is that this doesn't become an issue. For a multitude of reasons, it's absolutely vital to the Twins' chances that Mauer stay healthy and productive this season. He's shown in the past that he can take the field by storm without much of a spring tune-up, putting together the best month of his career in May 2009 after skipping all of March and April, so there's plenty of reason to believe that once he finally suits up Mauer will be ready to once again stake his claim as one of the best players in baseball.
Predicted 2011 Hitting Line for Mauer: .340/.430/.520, 17 HR, 90 RBI