Likely Starter: Delmon Young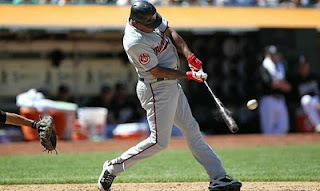 Jed Jacobsohn, Getty

Potential Backups: Jason Repko, Ben Revere, Jason Kubel
With circumstances being what they are, it's difficult to maintain a completely positive outlook on most of the Twins' key players this year without inserting rather significant caveats.
"Joe Mauer
could
return to MVP form this year
if
the knee which bothered him throughout much of last season and into this spring is at full strength."
"Francisco Liriano
could
be a Cy Young contender
if
he can overcome the mental hurdles which have plagued him."
"Justin Morneau
could
have a dramatic impact in the middle of the Twins' lineup
if
he can keep his concussion symptoms at bay."
And so forth.
With that being said, one player I'm unabashedly optimistic about this season is Delmon Young. Unlike the majority of core hitters who suffered through disappointing and/or injury-riddled seasons in 2010, Young finally broke through with a career year, tallying 21 homers and 112 RBI while besting his lifetime OPS by nearly 100 points. At age 25, he's entering his fifth full big-league season and there's little reason to think he won't be able to build on that success.
I've not been one of Young's biggest proponents over his first few years in Minnesota. That's not because I doubted his talent or ability, but because he simply wasn't a very valuable player. In each of his first three big-league seasons (including '07 with the Rays), Young was essentially the same player -- a guy who could post a solid batting average but wouldn't supplement it with much in the way of patience, power or defensive aptitude.
In his breakout 2010 campaign, Young continued to avoid walks like the plague, drawing only 28 in 613 plate appearances, but he made substantive improvements in other areas, most notably contact (he struck out in only 13 percent of his plate appearances, compared to 22 percent in '09) and power (his 68 extra-base hits nearly matched his total of 72 from his first two seasons with the Twins).
While his approach at the plate wasn't always picture perfect (and it likely never will be), Young had the look last season of a young player who was finally growing into his muscular physique. As you can see in the table below, he hit the ball on the ground less often, which helped him turn some of his singles into doubles and home runs:
| | | | | |
| --- | --- | --- | --- | --- |
| | | | | |
| | | | | |
| | | | | |
| | | | | |
When you're hitting the ball in the air only once out of every four plate appearances, like Young did as a 22-year-old in his first season with the Twins, you're not giving yourself a lot of chances for deep outfield drives and home runs, which explains why about 75 percent of his hits that season were singles. However, as Young has matured over the past three years he's started to get under the ball with increased frequency, and the results have been very positive. If the trend continues this year his fly ball rate could rise well over 40 percent, and if he's hitting the ball in the air that often with his powerful frame it could result in a whole lot of gopher balls, even in spacious Target Field.
Even if the power incline continues, Young still won't be a hugely valuable all-around player. The run production is nice, but he doesn't draw walks and remains a slow-footed, abysmal defender -- an issue which could worsen this year if his early troubles with turf toe carry over into the regular season.
Ron Gardenhire would be wise to find more opportunities to work Young into the lineup as a designated hitter this season, especially against lefties and with fly ball pitchers on the mound for the Twins. His bat is turning into an unquestionable asset but that doesn't fully offset the damage he can do in the outfield.
Should Gardy choose to lessen Young's outfield load this year, superior defensive replacements would include Jason Repko and Ben Revere, who could ultimately be Young's successor in left.
Predicted 2011 Hitting Line for Young: .310/.360/.550, 30 HR, 120 RBI
***
I also wanted to take some time today to explain a new feature I'm adding to the site this year. You may have noticed a new widget on the sidebar, just above the classic Christopher Walken pic, with the header "Twins Blog Tickets."
Here's the deal: I've partnered with a company called TiqIQ to offer readers this new avenue for finding tickets to games. If you click through the widget, you'll be taken to a
TiqIQ Twins page
(sporting a slick NTB co-branded design) with aggregated ticket and price listings from such third-party sellers as StubHub, TicketsNow and eBay.
Here are some of the unique features of TiqIQ:
1.
Aggregated Listings
: They aggregate all major sellers in the market so you can find the best deal.
2.
TiqZone Categorization
: They break each venue up into TiqZones, which are groupings of sections that we've determined are comparable in value.
3.
TiqIQ Statistics
: They provide ticket-level buying intelligence through their IQ rating and TiqIQ Statistics.
4.
E-Ticket Filter
: Want tickets last minute? You can find all the available e-tickets so you can print your tickets from home or the office.
5.
All-in Pricing Option
: Before you complete your sale you'll be able to tell exactly how much your tickets will cost including all service and shipping fees.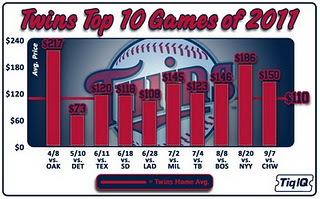 I've added this feature because I think it can provide real value to readers who are looking for tickets to games, as third-party is often the only way to go for Twins fans considering the high demand at Target Field. If you decide to use TiqIQ to buy tickets, please let me know how it goes.