Likely Starter: Jason Kubel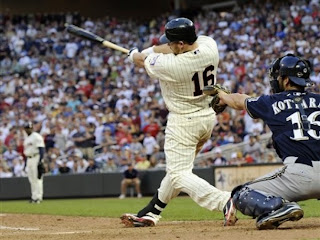 Jim Mone, AP
Potential Backups: Jim Thome
For the purposes of this article, Jason Kubel is the "likely starter" at DH in that he'll probably fill the role on Opening Day, but in truth the position is more dynamic than that. Joe Mauer will invariably make a number of plate appearances there -- probably around 100 -- and Jim Thome can be expected to at least match that number in spot starts. In an ideal world, Delmon Young would also draw occasional DH duty against left-handed pitchers.
So, even if he stays healthy and productive all year, Kubel won't really be a full-time starter at designated hitter. Instead, he'll likely get his fair share of days off and play the outfield occasionally (more than occasionally in the event that either Michael Cuddyer or Justin Morneau goes down at some point).
Kubel's lack of speed makes him a liability in the outfield, so the hope is that both Morneau and Cuddyer can shake off their injury concerns and stay healthy, enabling the 28-year-old native South Dakotan's best asset -- his bat -- to take the spotlight.
In 2009, Kubel was one of the most productive designated hitters in the league, hitting .300/.369/.539 with 28 home runs and 103 RBI while gaining a reputation as one of the baseball's premier clutch hitters (at least until the playoffs rolled around).
The lefty slugger's power and run production numbers remained mostly intact last year, as he blasted 21 homers and drove in 92 runs, but his batting average dropped from .300 to .249. He struggled against southpaws, but that's nothing new; what really poisoned Kubel's performance was a drop-off against right-handers. His ..260/.328/.464 line against them -- while nothing to be embarrassed about -- looked downright human in comparison to his .322/.396/.617 line against them the prior year.
The true Kubel may lie somewhere between his dazzling '09 and his pedestrian '10, but I'm a firm believer that he's closer to the former. He was an incredible talent coming up through the minors, and while it took him several years after knee surgery to rediscover his form, there was nothing illegitimate about Kubel's brilliance in 2009. He was just a hitting machine.
We saw flashes of that last season, but without the same consistency. Maybe it was because of injuries -- he was nagged by a few different ones throughout the year. Maybe it was the new ballpark -- he posted a higher OPS on the road than at home. Maybe it was being forced out of his comfort zone -- Morneau's concussion pushed Kubel into regular outfield duty in the second half.
Whatever the case, I expect better things from Kubel this summer, and while that might be offset somewhat by a slightly less extraordinary season from Thome I still believe we can safely view designated hitter as a bona fide strength for the 2011 Twins. For a position where the sole duty is "HIT!" you can't ask for a much better trio than Kubel, Thome and Mauer.
If you had to find a downside, it would be that all three are left-handed, which brings me back to my belief that Young should be written into the DH spot against particularly daunting southpaws.
Predicted 2011 Hitting Line for Kubel: .290/.350/.490, 25 HR, 90 RBI