Likely Starter: Michael Cuddyer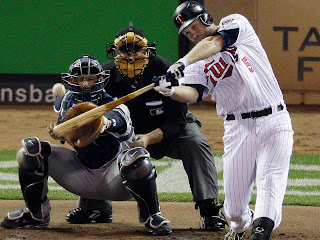 Paul Battaglia, AP
Potential Backups: Jason Kubel, Jason Repko, Ben Revere
Right field is Michael Cuddyer's position.
Well, sort of.
Over the past two years, Cuddyer has frequently been asked to move away from his established home, taking over first base after Justin Morneau went down in September of 2009 and last year bouncing around the infield before again settling at first in place of a sidelined Morneau.
Cuddyer has received more than his fair share of adulation from coaches, teammates and media for his willingness and ability to shift around the field, but lost in that praise is the fact that he's not terribly adept at fielding any of these positions and last year he was extremely disappointing offensively.
The average right fielder in the American League hit .276/.350/.441 in 2010. The average first baseman hit .259/.345/.443. Cuddyer, despite being an $8.5 million player who was labeled team MVP by his manager, posted a .271/.336/.417 line while splitting time mostly between those two positions. He made 25 more plate appearances than he did in 2009 and yet hit less than half as many home runs. He grounded into 26 double plays, a total that led the team and ranked second in the AL.
Despite the dismal performance, Cuddyer will be paid $10.5 million this season because of a ridiculous contract stipulation that forced the team to activate his 2011 option
before
the 2010 season. I'm not entirely convinced the Twins would have declined the lucrative option even if it had been triggered this past winter, but there's really no reasonable case to be made that Cuddyer is worth his hefty salary for this season based on last year's performance so he has much to prove, especially with free agency looming.
Cuddyer was one of a number of Twins players to undergo surgery during the offseason, an arthroscopic procedure on his right knee to alleviate soreness that, he told reporters at the time, had bothered him all season. This is a likely culprit for the hugely underwhelming numbers at the plate, and presuming that the issue (along with a foot wart removal that held him out of early spring training) is now fixed, we should expect much more from the right fielder this year.
Will Cuddyer actually stick in right all year long? That's obviously the hope, but if anything should go wrong with Morneau, Cuddy will be breaking out the first baseman's mitt and taking his act to the infield. In that event, Jason Kubel would once again take over regular duties in right. Cuddyer's better suited for right field than first base and Kubel's certainly better suited for DH than the outfield, so it's in the best interests of everyone that Morneau stay healthy and on the field this year.
Predicted 2011 Hitting Line for Cuddyer: .275/.340/.470, 20 HR, 90 RBI